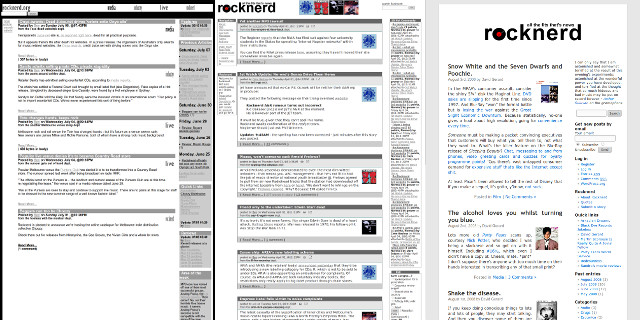 EMAIL: dgerard@gmail.com
Rocknerd was founded in Melbourne in 2001 by Ben Butler, with David Gerard (embittered superannuated music journalist and award-winning fanzine editor) as the other guy, at rocknerd.org. Rocknerd v1 ran on SquishDot, which was fabulously usable but had a nasty habit of occasionally eating its own database and having to be restored from backups.
Rocknerd v2 started in 2003 running on Slash, which was a stupidly fragile management nightmare but not as prone to sudden suicide as Squish. (David was entirely responsible for pushing Slash as the perfect solution and, please be assured, is very sorry indeed. Cheers to Matt McLeod for sysadmin.) Ben left and got a real job and David moved to London. Rocknerd sputtered to a standstill around mid-2007 and the domain stopped working in mid-2008.
David started the current version 3 in May 2008, running on WordPress, which is actually usable and manageable and doesn't induce a twinge of pain at the idea of trying to write something using it.
David has the database dump from Rocknerd v2, and will attempt to restore the contents here one day when he really hates himself (and has only been saying this since 2008). Articles should be easy, preserving comment threads will be a bastard and a half. Slash's schema was written by Database Barbie: "Third normal form is hard! Let's go shopping!" A pile of articles from Rocknerd v1 and v2 were recovered from archive.org and archive.is.
Logo graphic originally by Clem Barstow in 2003, redrawn in SVG by David.
WordPress plugins in use: