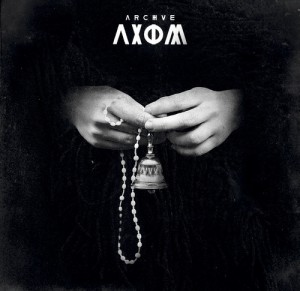 Archive are a pretty superb combination of electronica, trip-hop, with progressive elements, something like a fusion of 65daysofstatic and Portishead. To say that they've put together some mighty fine tunes over the past fifteen years or so is understating their innovation and genius; a taster for the unfamiliar – 'Lights', you really must get 'Lights' to feel how progressive music should be constructed and rarely is. Axiom (2014) is their tenth album item since their debut 'Londinium' in 1996 (not including compilations), and is certainly an impressive project being released with an accompanying black and white short film. It is a notably shorter production, with the album being around 35 minutes and the film about five minutes longer. As a soundtrack and story combination it comes as a unified product with the track listing providing a narrative in its own right.
Combining both a review of the film and the album, the story starts with "Distorted Angels" a trip-hop sound with some slightly low-gothic feel to the lyrics, and in the film, a ritualistic performance of the blind and the deaf in dilapidated deco scenery and dramatic violence. This is followed by the title-track Axiom has great electronic progression. When I first listened to this – prior to knowing about the accompanying film – I jotted down "this would be brilliantly suited to a science fiction thriller". Ah yes, and it is; 1960s-style underground setting combined with post-apocalyptic industrial-cyberpunk motifs, as if William Gibson and George Orwell exchanged temporal correspondence and met somewhere in the middle. In the film, Scene III tells the story of Axiom in documentary style, a survivor of World War III, John Preacher, reaches as small island and discovers that the resonance of bells can protect the island from the swell. The bells, the dreadful bells, are used as a controlling and unifying force ("Axiom defeated The Silence") of monitored involution in a para-religious society. The distorted angels are those who deliberately destroy their hearing so they cannot hear the bells.
"Baptism", the third track and smoothly linked to the prior, absolutely powers along with more than a hint of vocalised anger and passion with simple repetition in lyrical content. In the film, the Baptism scene is scene of a horrific Victorian-style interrogation and torture. This is followed by "Transmission Data Terminate", with Pollard Berrier taking vocal lead, engaging in a forthright emotional relationship rejection with a splintered background of static but with an ultimate recognition of internalisation, "What am I do when I'm a part of you?". It is a superb combination of music, lyrics, and background sounds, with a visual presentation of a punk of version Bletchly Park.
This contrasts well with the slower, melodic, and introspective "The Noise of Flames Crashing", which in the film involves a scene of a person taking the path of the distorted angels, applying an acid to their ear canal, freeing themselves from the controlling sounds of the bells of Axiom. This continues into "Shivers" which has all the sounds of classic Archive, with a gradual up-tempo progression, which juxtaposes with the slow-motion violence in the film between the angels and the riot police of Axiom. The album concludes with a superb reprise of "Axiom", as the credits roll.
Archive have produced something quite special with Axiom. The film is sufficiently arthouse and ambiguous that it will attract attention for those interested in unearthing complex hidden narratives, and is produced in a style not out of place with French La Nouvelle Vague, fragmented and discontinuous, providing snippets of a reality, deeply subjective offerings, and recursion. Musically – and one takes a very deep breath before making such a statement – this is their best and most consistent work, combining the best of their progressive electronica and industrial elements, haunting vocals, and a unresolved lyrical content. The only possible complaint is that Axiom is far too short – it is the sort of production that one yearns for more development, more answers, and more sounds.
ARCHIVE – Axiom
1. Distorted Angels
2. Axiom
3. Baptism
4. Transmission Data Terminate
5. The Noise of Flames Crashing
6. Shiver
7. Axiom (Reprise)