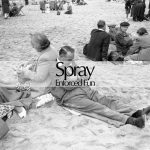 Spray are a couple of old goths doing semi-novelty synthpop straight out of The Manual. They do a brilliant job of it and you should listen to everything they have ever recorded. But in particular the new album Enforced Fun (Banoffeesound) and single "It's The Night Of The Long Knives, Charlie Brown" (above). See also this interview about the single.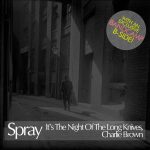 "It's like an evil genius cloned Stock, Aitken & Waterman by dark magic and animated them with bitterness and despair" — Rayner Lucas. This will only not be a hit because the world is wrong.
Their brush with fame was as two of The Cuban Boys, who topped John Peel's 1999 Festive Fifty with "Cognoscenti vs Intelligentsia" (a.k.a. "Hampsterdance the single") which was also mainstream No. 4 for Christmas 1999.
Spray were also responsible for this popular classic: