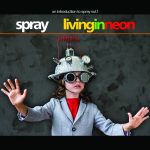 SPRAY: Living in Neon (Banoffeesound) — yay, more from your favourite situationist synthpoppers! This is Spray's first album Living In Neon from 2002, with a disc of new tracks, additional remixes, alternate versions and compilation appearances.
Spray's problem seems to have been timing: this album came out too late for the late '90s burst of synthpop and a bit early for the mid-2000s one. They should be way better known than they are, and not just for the novelties. There's been a lack of capitalising on their other musical activities. So it's up to you, dear listener, to click on the link and give it a preview. Find out what Abba would have done had they been just that bit crankier.
The hits "I Am Gothic", "Child of the 80s" and "Spaced" are right up front and early (as well as in multiple remixes). The new originals are not mere offcuts, even such an apparently mundane observation as "We Read It On The Internet" being done well enough that they could clearly go full TISM if they wanted to. I'm not sure we need that many versions of "I Am Gothic", but there's definitely no problem with having them.
The physical edition is a gorgeous production and probably worth the stress of owning a physical object for. The bonus tracks from the original 2002 CD (that didn't fit on the reissue) are up on Soundcloud. And of course don't forget the 2016 album, Enforced Fun.
---
The video below is not Spray but The Attery Squash, another Ricardo Autobahn band, with "Charlie Brooker Is Right About Everything" from 2007, as incontrovertibly verified in 2015.