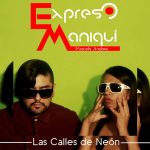 MARCELO ANDREA EXPRESO MANIQUÍ: Las Calles De Néon — bouncy accessible synthpop from Argentina, heavy on the "pop"; in a variety of styles, all with the aim of getting stuck in your head and staying there. Not overproduced, you can hear exactly what they're doing at all points. I particularly liked "El Incendio", "Abstinencia", "Tus Universos". Above: "Tus Universos", "Las versiones Españolas". Also check their previous EP, Ficción Vintage.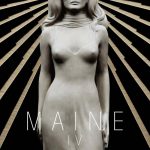 MAINE: IV (Spun Out Of Control) — lush progressive rock synthesizer constructions with voice as just another sound. The wash is detailed and rewards close listening. Gets noodly in places, but generally an excellent illustration of composition and attention to detail. Favourites: "L'illusioniste", "On Le Pleure Mort", "A Cada Paso".
SYNTHEADS: Fractured; "Tailgating" — "Tailgating" is a really nice 114bpm disco pop song with the lovely voice of Jules Straw from Pinklogik and a good beat and melodies all the way through. Find of the day — you definitely need to give this a play. The single includes a remix pack with all the base tracks separated out.
Fractured as a whole fulfills the promise of the single: another four good and individual slabs of synthpop. Remix pack is for another track, "Static".
Their first release was a somewhat novelty disco "Eleanor Rigby" (above) which is pretty well rendered. Jules' other band, Pinklogik, also did an odd 4/4 version of Joy Division's "The Only Mistake".