CRIMSON BOY: Street Gods and Neon Dogs; "Always Alana (NightStar Remix)" (Lightarmour Editions) — finally out properly after an abortive release late last year. Crimson Boy are a Perth industrial synthpop duo dating back to the 1980s who got back together a few years ago. I got their 12″ of "Spirits", ""I Will Sacrifice" and "Tears Of Betrayal" (tepid and weedy sound, not as good as it should have been, the songs are done better on this album) and cassette (on fire and kicking arse) at the time. This album takes what they did then and brings 2010s sounds to the party.
"Here Are The Young Men" is the intro. "All Cats Are Grey" is the Cure song (not a bad rendition). "Love Song" (two versions) is a muscular synthpop piece and the strongest song here. "Hearts in Armour" starts as atmospherics with suitable sounds, then goes up in gear into a pretty nice instrumental (three parts). "I Will Sacrifice" (two versions) was on the 12″ and is much better rendered this time around. "Always Alana" is the single and good in the role (and the single remix is even better).
There's what feels like an EP's worth of songs in multiple versions, and I'd have hoped for more. But this isn't bad at all. If, as a fan back then, I was imagining what I'd want from a Crimson Boy album now, this'd be about it. Leaves me wanting more, please.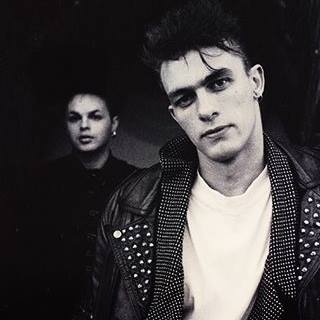 Vince and Andy.
For comparison to their 2017 sound, here's "Open Air" (1984) recovered from a cassette: