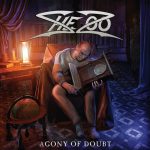 Look, when I saw the promo material for Shezoo, which included a video for the titular song of their 2018 album Agony of Doubt (Fastball), I was ready to give a half-hearted listen, roll my eyes, and move on to something else. It looked like a Dad Band (TM) with a Mom to shake things up. And now I've got to apologize for my prejudice and evangelize for Shezoo because it turns out that they fucking shred.

Agony of Doubt is a fun, fantastic, big-hair-eighties-style metal album that goes hard and fast but stays fun the whole way through. Check out this totally wicked solo from "To You," a song dedicated to friends, family, and fans, that is delightful in its unblinking sincerity and utter lack of cynicism. The whole album is like that. Skilled, energetic solos, engaging riffs, absolutely stellar vocals, and unmitigated joy to be making music.
Frontwoman Natacha is the sole remaining member of the originally all-woman group but she has done a great job of assembling a solid lineup of skilled musicians to keep Shezoo alive since 2006. Twelve years into Shezoo's tenure the band is mature, talented, and has a robust, polished sound.
The music is overall a pretty fantastic hair metal record and fun to listen to, but Natacha's voice is what pulled me in and what I think really makes the band special. Shezoo lists Dio as an influence, and you can feel the spirit of Ronnie James in the phrasing and construction of the vocal lines, however there's a significant Lita Ford sound as well. If you like Ford's "Aces & Eights" you are probably going to really appreciate Shezoo's "His Heart is Metal."
While Shezoo might not be bringing anything new to the table with Agony of Doubt there's no question that it's an easily digested album that displays considerable musicianship and is peppered with earworms. It's engaging without being demanding and has some heavier songs to balance out the power ballads if that's what you're looking for.
If you happen to be in Switzerland, Germany, or The Netherlands Shezoo is playing at a variety of small venues throughout the year; if you're not in one of those places check out the band's YouTube to watch some of their very-entertaining-but-admittedly-over-the-top videos.