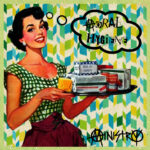 MINISTRY: Moral Hygiene (Nuclear Blast) — A new Ministry album! They had one a few years ago too. I heard this was actually an okay record, and gave it a spin.
Well, it's not bad. The sound is metally American industrial buttrock, in the early '90s style that Ministry did so much to popularise thirty years ago — you know precisely what you're getting here. No tracks stick in my head once they finish. There's a mangled version of the Stooges' "Search And Destroy" in the middle.
Frankly, I'm most surprised Al Jourgensen is still alive. Good luck to him. Most of Ministry's non-Warner stuff is up on their Bandcamp. Above: "Disinformation".