In this week between Christmas and New Years I am attempting to de-clutter both my house and my head. By this I mean I am going to make myself actually write down some of my music thoughts.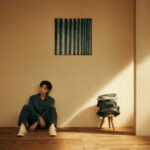 First on deck: Indigo, by RM.
RM (Kim Nam-joon) is the leader/rapper for the South Korean band BTS. Indigo is his first full solo record, released as BTS starts a brief compulsory-military-service induced break. It marks both the end of his 20s and roughly a decade of international pop stardom. 
I only recently fell down the K-pop rabbit hole (more on this later) but, between what I had absorbed about BTS via fannish osmosis and my on-going general interest in how (and when) pop stars (try to) reinvent themselves, I was curious. 
The short version: It's good! I liked it! He's made some smooth grown-and-sexy pop music, and while there are a few songs that are not totally my jam, I can admire the record as a whole as a work of delicate artistry. 
The long version: RM asked us (the listening public) to listen to it straight through, so I have, a couple of times now. Halfway through the second listen I made a detour into BTS' discography to get a better idea of the comparisons, which also overlapped with the aforementioned recent tumble down the K-pop rabbit hole. My findings are that you don't have to listen to BTS or know anything about K-pop to listen to this record and enjoy it, but having some knowledge of the music-industrial complex that he grew up inside does add layers of complexity and nuance.
It would take far too long to try and summarize BTS here, but, here they are at the Grammy's last year — RM has sort of purple-gray hair in this one — performing Butter:
And, because I went back and forth with myself over which video to use, this is the official music video — RM has pink hair here — which is considerably more playful:
All of this is to say, BTS are K-pop elder statesmen, known for their extremely popular music but also for being boldly outspoken, for their charitable work and in RM's case, for being a patron of the arts.
On Indigo, he brings all of that to bear, but carefully, so that the end result has a restrained gravitas rather than an oppressive weight. It's melancholy, in places, but meditatively so, rather than suffocating. It is, as I mentioned, smooth and grown and sexy pop music, and what I keep coming back to is the sense that this is music for adults. It feels like leaning against a cool glass window and looking out over a city and thinking: "Now what?" and knowing that at least part of the answer is that you have to go home and cook dinner and do laundry and maybe water some plants. But you can dance and sing along to this while you fill the watering can.
My two favorite songs were Lonely and Wildflower, but, since it is meant to be listened to in order and all at once, not piecemeal, here it is:
Another version of the album playlist, including assorted music videos, live performances, and behind the scenes material:
The performance at Dia Beacon is particularly lovely, and the "All Day" video diaries are particularly illuminating of Kim Nam-joon, the person behind the pop star. "RM live in Seoul" is about an hour's worth of concert at what appears to be a tiny club. Side note: BTS' fanbase's name is ARMY, and that is what the occasional "Army" reference is about, not BTS' collective eventual enlistment.