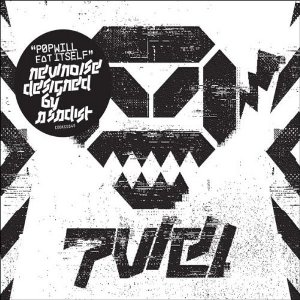 With their last and most successful general release album released in 1994 (Dos Dedos Mis Amigos), it is a long time between releases for iconic grebo band, Pop Will Eat Itself. Or, if you like, 1996 with the rare "A Lick of the Old Cassette Box", an LP limited to 200 copies. The fact that the band disbanded in 1996 is an obvious cause, even taking into a short reformation in 2005. But the Poppies have returned, albeit with a very different line up. The only remaining original member of the band is vocalist Graham Crabb providing continuity. The new members however come with their own impressive pedigree, Mary Byker (Gaye Bykers on Acid, Pigface) joining as a vocalist, Tim Muddiman (Gary Numan) on rhythm guitar, Jason Bowld (Pitchshifter, Killing Joke) on drums, and Davey Bennett (This Burning Age) on bass guitar. Certainly this source material itself is quite acceptable to the original Poppies sound, so I for one am happy to see this amalgamation of talent.
The new album, "New Noise Designed by a Sadist" was released in 2011, so this really isn't a cutting-edge review. But as the band is touring my home town this week, it's well about time that this was covered. In future I will try to keep more up-to-date, but in my pathetic defense the album completely slipped under the radar for me and I've only had it my mitts for a couple of weeks; some fan I am. Much of the album does come from an aborted VileEvils album, a PWEI spin-off band, so that's worth keeping in mind as well.
The shorter first track on the album, "Back to Business" is an appropriate introductory theme song whose title certainly makes sense for a band who hadn't produced an album for almost twenty years. The next piece, "Chaos & Mayhem" has an excellent progressive garage-punk sound which will grow on you. This is followed by "Nosebleeder TurboTV" which has a Ministry-like introduction in its lyrical attack on banal reality television shows and some of the old-PWEI sound from the "This Is The Hour.." period. This is followed up in a similar vein with "Captain Plastic" which seems – from my own interpretation anyway – to be about a reality disconnect from credit card expenditures on hedonistic pursuits. Lyrically it's a bit on the simple side of things, but the sound bubbles along nicely.
"Mask" begins with a charming cheap electronic organ introduction followed by heavy static and distortion criticising drug use as a personality. "Equal Zero" has plenty of electronic squeaks and bleeps and and some occasional piano to add to the dominant guitar. "Oldskool Cool" comes with a pretty good main riff. "Seek and Destroy" kicks off really well and gives with a punk lyrical aesthetic. All four of these these tracks really have their moments, but they don't really stand out either; which is a problem for the album as a whole.
So it continues; the album concludes with "Disguise" and two versions of "Wasted". The former emphasises vocal content which is a little ironic for lines that begins with 'We came to fame with our guitars screaming'. Well, not with that song! It also includes the charmingly self-referential: "A multi-identity, a Cure for Sanity" line. The following track, "Wasted", with its thrash-light guitar sound celebratory with the line "forever laid out I will be, wasted, wasted". Apparently deserving of a reprise, it is immediately followed by the same with slower version of the previous with piano which has some creepy gothic elements. It's a good conclusion for the album and one of the better tracks overall.
There's some really good work on "New Noise Designed by a Sadist" and it does improves on multiple listens. However, it lacks astounding pieces with the extraordinary critical and incisive pop-culture self-referntiality that the Poppies were known for. As a result, it is hardly surprising to learn that the neither the album nor any singles made particular headway in the charts, which is quite a drop from a band that had nine previous singles in the UK top-30 and an album that peaked at number 11. In some ways this should be considered like "Box Frenzy Mk II" – an experimental first cut of a new version of band. A decidedly odd thing to say for band originally formed in 1986; but then again – this is a new package for the old grebo.