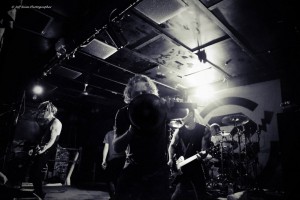 (PWEI at Fortitude Valley, image by Jeff Ram Photographer)
After three years of a band having a 'new' lineup one would think that they're not really that new. But if you live in Ulan Bator, or Melbourne, you probably haven't seen the Poppies for at least twenty years so this is new and, as a result, approached with some trepidation among the fans. Inquiring minds decided to fork out the extra dollars for special early-entry passes for a meet-and-greet, signing session and, most remarkably, a special introductory song chosen by the punters (we chose Def Con One, part of their set anyway, so we heard it twice).
The venue was the Hi-Fi Bar, right in the middle of the Melbourne CBD, once home some twenty odd years ago, to a delightful goth club with polished fittings and a very sensible design (dance floor at one end, bar at the other, mezzanine level overlooking the dance floor). It meant that people could actually have a conversation in a night club. It also meant that the people who wanted the music loud and pumping could have it loud and pumping. Since those days it has become a live venue for a while and, whilst the polish is well and truly gone, the layout is the same. Kudos for that choice.
The band themselves were absolute charmers, not just to their immediate guests but also to the five hundred or so who turned up on the night, interacting with the crowd throughout the night and providing a post-concert signing session. With Graham Crabb acting as elder statesman of the band, there was some very cute shyness on the part of the other members when presented with EPs for decades ago. What was fascinating was the complete surprise when presented with Jeremy Beadle's study of music and samplers, derived from the band's name, 'Will Pop Eat Itself?'
The support act was King Brown, who heralds originally from distant Karratha in Western Australia. An eclectic collection of rap, hip-hop, occasional electronica-inspired backing, pub rock, and semi-acoustic experimental, the indigenous artist presented with passion and wry humour of the harder areas of Australia (e.g., King's Cross), politics, and the education system. An admitted fan of PWEI, King Brown concluded their set with their own version of "The Fuses Have Been Lit".
The headline act started with two introductory anthems back-to-back, "The Incredible PWEI vs. the Moral Majority" followed immediately with "Back 2 Business". Following this and obvious classic crowd-pleasure with "Wise Up! Sucker" which really got the crowd moving, then that great heavier track from their latest album "Chaos & Mayhem". There was a quirk with the sound system during "Wise Up!" which seemed to irk the performers, but the crowd was already well and truly accepting. PWEI are a noisy band and sometimes that can be overwhelming to even the best system.
"Everything's Cool" invites audience participation and this was no exception. Following this was the classic high-tempo, "Dance of the Mad Bastards", a track which I've always considered significantly under-rated, which is reminiscent of The Clash's "The Magnificent Seven" in terms of sheer verbal density, danceable tempo, and consumer criticism. The classic older tracks were then followed by recent material, "Watch The Bitch Blow", their EP from this year, and a particularly powerful performance of "Nosebleeder Turbo TV".
Another song that was performed particularly well was "R.S.V.P", not usually one of my favourites. But this was followed by "Can U Dig It" and "PWEIzation", both of which were faultless, and then, a real old classic "There Is No Love Between Us Anymore", whose lyrical complexity continues to amuse me to this day. A little incongruous was the jump to the industrial-strength anti-racist classic "Ich Bin Ein Auslander", and then the popular "Get the Girl! Kill the Baddies!" which can only be considered in satire.
The newer pop-heroic "Disguise" was followed by the only slower tune of the evening, "Babylon", and then the older self-referential, "Radio PWEI", and concluding with the appropriate "Oldskool Cool" (ahh, that video clip). An encore was of course ineviatble, making up a great trio of "Preaching to the Perverted", "Def Con One" (see everyone gets to hear it), and finally (really, this time) their special collaboration and admixture with The Prodigy, the very bass-heavy "Their Law".
From this one gets a good sense of what was played and the enthusiasm of the performers and the aging grebo fans who had come along to see them. A particularly attentive or obsessive reader may have even calculated that the length of the Poppies performance was around two hours which still seemed compressed in time given the wealth of material they have to offer. What now must be emphasized is how well they played. Well, Graham Crabb and fellow vocalist Mary Byker bounced around with extraordinary energy all night. Tim Muddiman displayed incredible competence on lead guitar churning out some great sounds at great pace. The young and lithe Davey Bennett took the bass notes down to the underground and his stage athleticism and flying dreadlocks cut quite a picture in their own. Finally, the wide-grinning Jason Bowld could take us all on a mesmerizing stretch on the drums.
If there were any nay-sayers who decided to give the Poppies a chance at the Hi-Fi Bar, they should have left with at some some degree of conversion. The 'new' Poppies have shown that they deeply understand the old material and have provided some great contributions of their own already. What they come out with next can be eagerly awaited by Poppies fans, old and new, if their live performances are anything to go by.