It's a cute fashion for the originators of subcultures to declare its 'death' just as it is starting; thus the hippies of Haight-Ashbury declared a "death of hippie" march in 1968, the punk band Crass sung "Punk Is Dead" on their first album in 1978, and so too that marvellous contemporary style of music where progressive and alternative meet in complex rhythmic structures, math rock, would face the claim of the "fall of math" by genre-exemplars 65daysofstatic likewise in their ground-breaking first album in 2004. Since then they've brought out a further four studio albums and a soundtrack with their complex and experimental sounds.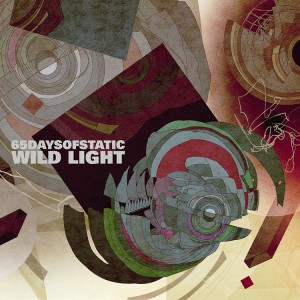 Their last album, Wild Light, was released in September 2013 and your reviewer is a lazy bastard for not getting it done then. It further positions the band into a place where alternative rock meets futuristic science fiction sounds in an irregular but enticing rhythm. Opening track, 'Heath Death Infinity Splitter' begins with a great opening sample, and then moves into deeper, slower, and otherworldly sounds with the gradual introduction of other instrumentation. In contrast, the well-received 'Prisms' has a discordant and industrial feel with jump-cuts before also layering more ethereal sounds. This is followed by what should be the opening score for a space-heavy science-fiction film, 'The Undertow' uses an effective drum tempo as background to the slower sounds that are both naturalistic and alien and concludes with haunting sounds after piano minimalism.
'Black Spots' positively powers along with a heavy and thundering darkwave bass beats, whereas 'Sleepwalk City' starts off as a faster track before progressing into slower and quieter beats and ending with superb static discord. 'Taipei' begins soft and slow with the distant tonal invocations, progressively rising into a mighty crescendo about 2/3rds of the way through, whereas the derivative title track, 'Unmake the Wild Light' also has a gentle introduction with progressive elements introducing increased levels of instrumentation and long-cycle repetition; it is reminiscent of the title track for Archive's 'Lights'.
Starting off with eerily evocative haunting orchestral style static, 'Safe Passage' is carefully constructed to be almost overwhelming to the point of putting one on edge, whilst 'Destructivist' has a minimalist keyboard introduction with gradual instrumentation with an impalpable background overlayed. The final track, 'Artismal', begins with incoherent background samples, with added guitar eventually moving to the quite heavy dissonant brilliance that the band originated with in 'Death Of Math Rock'.
It may be unusual in the reviewing world to provide a description of every track of an album without noting particular highlights, but in this case it is quite deliberate. There are no highlights and everything is a highlight; every track is of equal but different merit which is a sublime irony for a band that has made its mark through enticing irregularities and dissonance. If one has to give a grade to Wild Light it is a high four out of five for every single track and for the album as a whole. There is little off-putting here; just consistently great music.