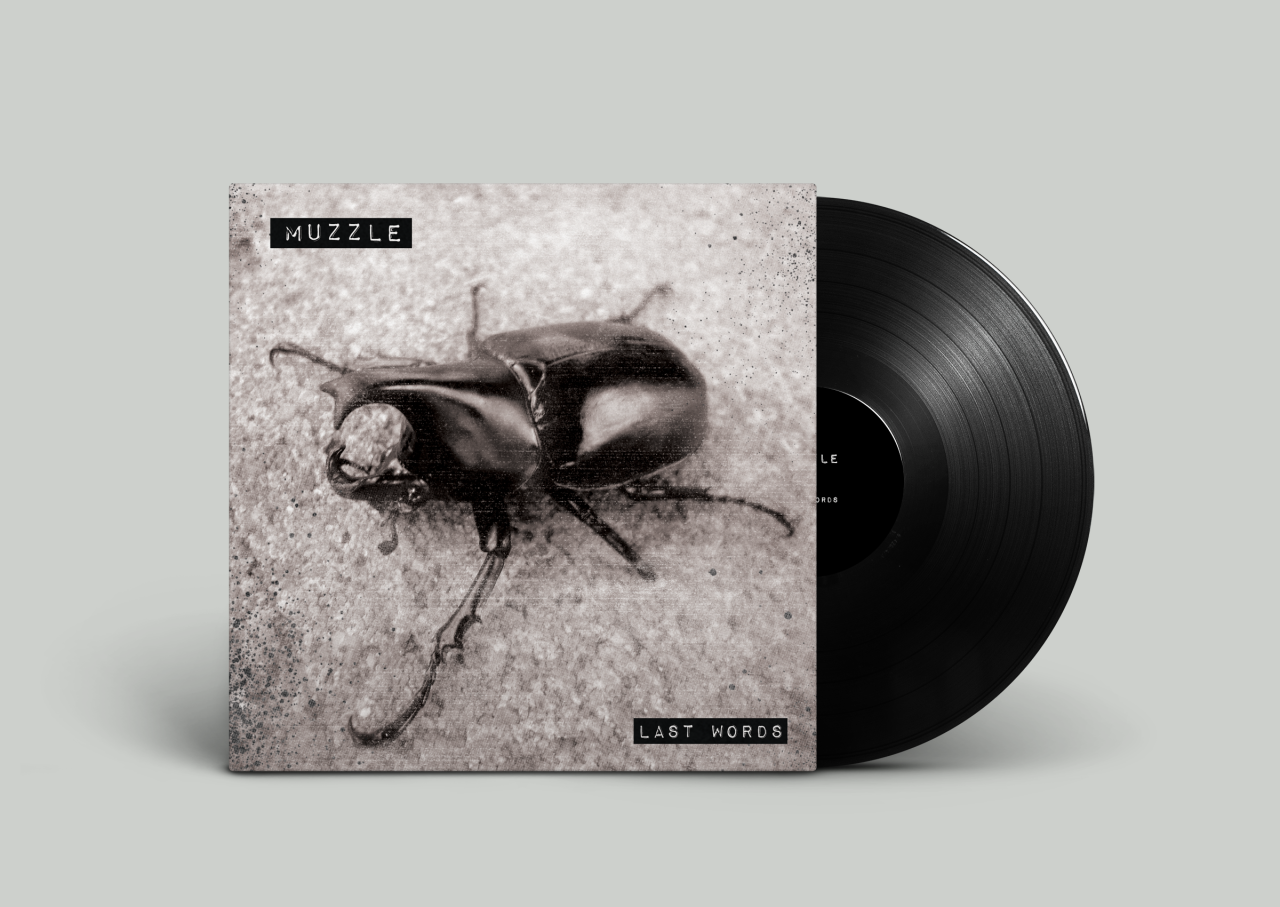 "Last Words" (2014), is the debut EP for young Fremantle independent rock band, Muzzle, with three-piece Daniel Panizza on bass, Daniel Prince on drums, and Luke Hoehn providing rhythm guitars and vocals. With some coverage by national broadcasters, JJJ, the band's cross-genre sounds will appeal to many who have derived great delight from eclectic sources. The cover art of the album by Alex Aitken is a fairly simple affair, a rhinoceros beetle (chalcosoma atlas, I believe). Not a creature native to Australia, but it does remind one of the cover of "Mezzanine" by Massive Attack (yes, they did use a stag beetle – for goodness sake, how many entomologists are really reading this?).
The opening track 'Lock Up', starts with a positively thumping bass introduction by Panizza, before moving into some very hard and fast guitars, reminiscent of the early Dead Kennedy's, juxtaposed with Hoehn's distant vocalisations which are almost like the more artistic parts of Joy Division. This is followed by by 'Lemonade', which has a slower alternative rock introduction with careful constructions, gradually building to a heavier and faster sound, with a rather charming short metal guitar solo no less before breaking into punk chords and finally a return to the introductory tempo. Again the vocalisations come across are distant, but in this case often shouted rather like many of 90's grunge bands (e.g., Nirvana).
The title track of the EP, 'Last Words' also has a slow introduction, and is far more melodic and ethereal than others. The dark progressive pacing laments rather like Archive does in 'Lights', builds, changes, and comes to abrupt yet perfect stop. The final track, 'Breakaway', has a charming indie-rock introduction, before transmogrifying into a heavy grunge style again with a metal solo, before returning to the introduction's style, in a manner rather like the earlier track, 'Lemonade'.
Overall Muzzle provides a good collection of sounds that will certainly have some appeal to fans of alternative rock, grunge, metal, and punk. The technical competence of the band is excellent with the two Daniel's not missing a beat on drums or bass. The production qualities, whilst not first grade, where certainly adequate for a first EP. The weakness in the band is that their style will be insufficiently appealing to all the genres they touch, and there will always be a significant challenge in ensuring the tension between the different styles does not collapse into discord. Of course, the easier path would be to concentrate on just a single stylistic genre, with a few concessions to other styles – and whilst popular, that's hardly art, is it?