I threw up on Lux Interior.
It was mid-1986, at the Red Parrot in Perth (name and logo blatantly nicked from the New York club of the same name) in Perth. I was nineteen and had been going out to see bands and drinking in earnest for six months. The Cramps had played (the Canterbury Court Friday 22 August 1986 show, I think) and went there for after-show drinks.
The Red Parrot had been running a promo on Fridays where they offered a large cover charge ($5 felt large for a broke student in 1986) and then your drinks (rank piss) free! As a young idiot, I took full advantage.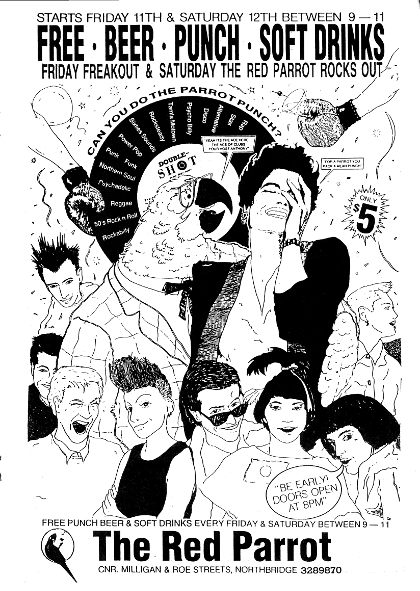 I was doing a fanzine so I knew all the local band scenesters. So i was hanging out in the band room, as you do when you're ligging. I felt a bit unwell. BLUUUUUHHHH
I did not find out until 2012 on Facebook, twenty-six years after the fact, that I had thrown up literally on Lux Interior. The most rock'n'roll moment of my life, and I missed it.
(I was promptly ejected. The doorman was kind enough to hail a taxi for me.)
I couldn't drink beer for about three years after that. I was on the Strongbow Cider in bottles. Which was at least as fuckin' rank, but I did singlehandedly get the Seaview Tavern in Fremantle to stock Strongbow Draught, the one with the red label.
(I would hope this would be the sort of moment one could tell one's children about, but mine has been primarily a gamer since she was two. Pretty musically talented though, which is unsurprising given her parents, a rock critic and an actual talented musician. We'll see how the interests go.)