Averaging one studio album every three years, the classic math rockers, 65daysofstatic are right on time with their latest release, the official soundtrack to the video game No Man's Sky. The multiplayer game itself is quite a fascinating and much anticipated production which, apart for being a thematically rich survival game of exploration, survival, trading, and (of course) combat. Diversity in the setting is generated from procedural generation for a massive open universe.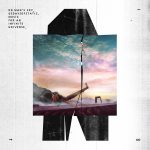 Comparisons between this album and their 2011 soundtrack of Silent Running is inevitable and accurate. This is mainly not like their early complex guitar-driven sounds, such as The Fall of Math, but with some notable exceptions. Following the game's design, the soundtrack itself uses generated music. Unlike that one would expect from generation, there is significant variation, with many tracks including a fair amount of classic 65dos feedback and white noise.
The opening track, 'Monolith', is a new turn for the band with a significantly darker and more industrial sound to what is normally provided, a style which is somewhat repeated in an initially slower tempo and a keyboard overlay with 'Red Parallax' before traditional guitars and drum make their powerful discordant attack. The highlight of album however is most certainly, 'Asimov' which starts off initially lighter, then faster, then into lots of feedback, then into a powerful dirge, and the final track 'End of the World Sun', which is an extremely energetic piece that sounds very much like the old 65dos. They contrast with 'Heliosphere', which despite a quirky beginning, is a little too organised for 65dos, and 'Hypersleep' which is a heavy keyboard piece that doesn't really develop.
The ten tracks of Music for An Infite Universe are complemented with a six-track second album Soundscapes. There are all longer and combined experimental pieces. The dominant adjective is 'otherwordly', a style especially relevant in the first two tracks, 'NMS_exterior1Atmos1/ False Suns', and 'Tomorrow / Lull / Celestial Feedback'; these are largely deeply brooding sounds. However one track ('Departure / Shortwave / Noisetest') although starting with excellent heavy confused discordant sounds, falls into some weird, experimental bleeps and farts in the latter part, reminscent of the worst of 1980s electronic bands.
This album constitutes an interesting foray and technical development for 65dos and it certainly has several instances of tracks that are powerful or highly evocative of the science-fiction settings for which it has been developed. Likewise however, it is also designed as a game soundtrack, when means that a great deal is a type of aural wallpaper – very good aural paper, one hastens to add, but aural wallpaper nonetheless. It is restless and relentless, correctly described the album's promoters as "what does forever sound like?" The attempt is bold, and perhaps it does not completely succeed, but it certainly is an thorough attempt within the new musical genre and technology.