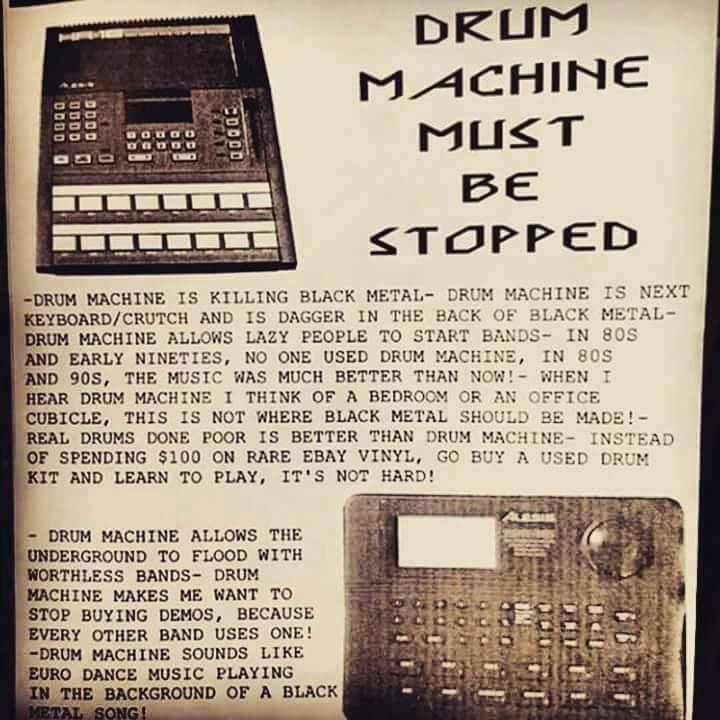 -DRUM MACHINE IS KILLING BLACK METAL- DRUM MACHINE IS NEXT KEYBOARD/CRUTCH AND IS DAGGER IN THE BACK OF BLACK METAL- DRUM MACHINE ALLOWS LAZY PEOPLE TO START BANDS- IN 80S AND EARLY NINETIES, NO ONE USED DRUM MACHINE, IN 80S AND 90S, THE MUSIC WAS MUCH BETTER THAN NOW!- WHEN I HEAR DRUM MACHINE I THINK OF A BEDROOM OR AN OFFICE CUBICLE, THIS IS NOT WHERE BLACK METAL SHOULD BE MADE!- REAL DRUMS DONE POOR IS BETTER THAN DRUM MACHINE- INSTEAD OF SPENDING $100 ON RARE EBAY VINYL, GO BUY A USED DRUM KIT AND LEARN TO PLAY, IT'S NOT HARD!

- DRUM MACHINE ALLOWS THE UNDERGROUND TO FLOOD WITH WORTHLESS BANDS- DRUM MACHINE MAKES ME WANT TO STOP BUYING DEMOS, BECAUSE EVERY OTHER BAND USES ONE! -DRUM MACHINE SOUNDS LIKE EURO DANCE MUSIC PLAYING IN THE BACKGROUND OF A BLACK METAL SONG!
Of course, someone's recorded it.
This scan showed up on Twitter a few days ago and has spread like a meme, but does anyone recognise the source?