Pel Mel were an Australian post-punk indie-pop band who formed in Newcastle in 1979 and split in 1984. They did two albums, Out Of Reason and Persuasion, on Gap Records (the predecessor of Volition Records and Factory Australasia). They achieved some small notice from those of us following things at the time. You could hardly turn on public radio in 1982 or 1983 without hearing "Shoes Should Fit" or "Blind Lead The Blind".
A recently-discovered and lovingly restored VHS of "Shoes Should Fit"
Like so many old post-punk bands, they've reformed in recent years, playing as Pel Mel or as the Pel Mel Organisation starting in 2012. Here's a 2014 "unplugged" version of "Drowning (Head Above Water)". They sound exactly like they did.
The Pel Mel Organisation doing "No Word From China", Newcastle 2012; there's a pile more of this on Jude McGee's YouTube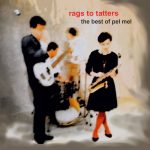 They also seem to have back their records! There's talk on their Facebook of reissues of the albums, but coming up in a couple of weeks (preorder now, release on September 15th) are Rags To Tatters (a collection) and I'm A TV (live 1979 to 1984) as CD and/or download. Live album has a lotta songs that were never on a record before. I like the look of those track listings.
"Pandemonium" from the second album did get a fair bit of telly
A new video for an old song, "Screaming Heart", from the collection

Photos from back in the day, lifted from the band's Facebook
Update: Rags to Tatters up on Spotify.