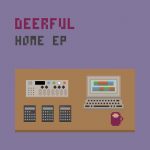 DEERFUL: Home (Where It's At Is Where You Are) — This is the first chiptune record I've ever had a minute for, let alone three. This is because it so powerfully demonstrates what I'm now calling the Dependent Records Law of Electronic Music, which is that the vocal is everything.
The vocal on "Moon Maps" is so gorgeous, and the chiptune actually makes this even clearer than on the excellent original. (Like the electronic equivalent of an acoustic version.) Same for "Two Thousand One Hundred and Sixty", originally on Staying Still. New song "Before Us Comes The Flood" (video above) shows the value of the form for showcasing a new piece.
This all works amazingly well. As well as the Bandcamp, there's a limited USB stick with a game and some extra stuff. See also the Beautiful Freaks interview.
Emma Winston is also doing assorted chiptune videos on a Game Boy on the newly-revived Deerful YouTube channel.
Another version of EP track "Riches and Wonders", originally by the Mountain Goats.
Non-EP track "Sick Of Losing Soulmates", originally by Dodie Clark.