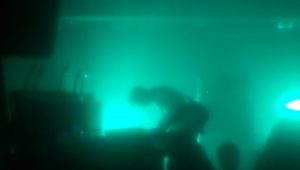 It was pure serendipity that I found myself on the other side of the planet from my usual home at the same time that 65daysofstatic graced Barcelona to promote their new soundtrack album, No Man's Sky which I have previously reviewed on the most esteemed and underrated music 'blog on this rockball. The venue, Razzmatazz, has a good reputation and deservedly so. It's rough and ready, but sensibly designed allowing for generous audio and viewing spaces, good ventilation, and even reasonable drink prices.
Despite having a fairly modest audience of five hundred or so, yet of diverse style and age, 65dosstatic came with incredible passion and enthusiasm, and the crowd responded in turn. The preceding review of No Man's Sky suggested an album that was highly polished and technically superb. Yet, it was this live performance that added a certain degree of raw energy and a living abrasiveness, that was lacking in the more introspective splendid isolation of the studio album.
Starting with 'Monolith', a perfect introduction, the energy was turned on for truly great rendition of 'Asimov', also from the new album. However this was far from mere repetition of the existing album's song order, with tracks from other albums with 'Prisms', 'The Undertow', 'Sleepwalk City', 'Wild Light', 'Safe Passage' (from Wild Light) and 'Install a Beak in the Heart', '541/I Swallowed Hard, Like I Understood' (from The Fall of Math), 'Radio Protector' (from One Time for All Time), interspersed, and seamlessly as well despite coming from very different periods of the band's evolution, but also with 'Supermoon' and 'Heliosphere' from the soundtrack.
In an era of two hour plus concerts, 65dos put in twice the energy in half the time, especially for '541/I Swallowed Hard, Like I Understood', which is particularly well suited for such enthusiasm, and especially Simon Wright, whose height only added to an assumed accelerated elevation. The encore was slightly delayed due to instrument failure from the band's prior performance ("we're not sure what we're going to play because we've broken everything"). The choices determined, it consisted of but two tracks, 'Crash Tactics' (from We Were Exploding Anyway) and a gloriously extended version of their most prominent first hit, 'Retreat! Retreat!' (from The Fall of Math).
Full credit goes to the band who, despite such an energetic show made the effort to communicate with the audience between material and mingle with the crowd after the concert. Credit also to the sound engineer, an essential yet typically unrecognised member of any group. Due to the nature of the experimental math rock performed by 65dos the prospect for a less skilled engineer to turn the organised chaos into disorganised chaos is indeed very high. Overall, an brilliant evening from what are certainly the most interesting band of this century. This band is unstoppable.