I had an acquaintance that had an eight track player bolted to his bedroom ceiling. Metal Machine Music was in it and it played non-stop, 24-7 for months. If he needed to listen to his stereo, he played his regular record player and turned it up loud to be heard over the munching away of MMM. He did this for years, on endless loop (what 8 Tracks do) forever.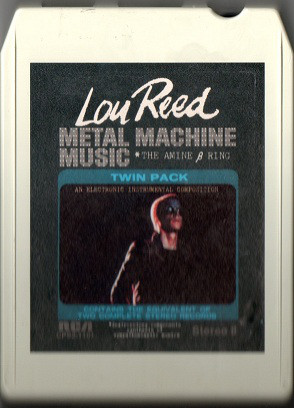 Following Transformer in 1972 and Berlin in 1973, Lou Reed had what might be called a "career." He released this masterpiece of the speed freak's art in 1975, between Sally Can't Dance and Coney Island Baby, which were rock'n'roll records comprising conventional songs. Metal Machine Music was not quite like those.
An album that is literally an hour of guitar feedback, arbitrarily chopped into four 16-minute segments and released as a double LP, did not go down particularly well with his label, RCA, nor with anyone else really. The Lou Reed fans who bought it on name value returned it as defective — obviously a pressing plant mistake. RCA withdrew it from sale after three weeks.
Except there were the people who did like it. It was the screeching nihilism of American punk rock in its purest form. Anyone who just wanted noise to forget, this was their bag. Per Lester Bangs:
If you ever thought feedback was the best thing that ever happened to the guitar, well, Lou just got rid of the guitars.
Reed himself stood by it until the day he died: "the greatest and longest guitar solo ever". He had actually tried to get it put out by RCA Red Seal, the classical division, but couldn't talk them into it. Before the Velvet Underground, John Cale had worked with LaMonte Young on drone music of this type, and this had gone into such as "Sister Ray". Whose essential value proposition is this sort of headcleaning noise, except Metal Machine Music doesn't bother putting it to a song.
Reed appears to have been completely correct: the record's been fabulously influential on horrible noise music since. Many industrial noisemakers credit it directly as an influence. 'Cos, y'know, anyone could have done this, but Lou did. Just think: if someone had thought of playing this at the same time as Pet Sounds, we could have had the Jesus and Mary Chain in 1975.
The noise heads rehabilitated its reputation and you can buy a CD remaster today. Or play it on Spotify, if you want to give Reed's estate a fraction of a penny. Here in the cyberpunk come true future, it feels like easy listening.
Here for your convenience is the whole album, and if you want the authentic 1975 experience of side four's locked groove, here's four hours of it.