Pigs and Battleships is a vastly underappreciated post-punk album of the female and funky variety. It gets into the mid-'80s Factory electro disco sound and the Latin-flavoured lounge jazz one, but if you liked the post-punk from the early '80s that wasn't just white boys with guitars, you will be well pleased with this. "Fela Kuti meets Kraftwerk somewhere between Manchester and Rotterdam," as Gonnie Rietveld put it. They also just happened to presage most of UK acid house.
Gonnie Rietveld, City Life 9-23 February 1983; Mike, Gonnie, Simon and Barry, 22 May 1984, by Kevin Cummins
The one video I could find, for early single "Tingle", from the June 1985 tape Factory Shorts (FACT 137)
Quando Quango were a Factory Records band, with links to several others. They were formed by Hillegonda "Gonnie" Rietveld and Mike Pickering in Rotterdam in 1981, relocating to Manchester in 1983. Their first drummer, Gonnie's brother Reinier, stayed in Rotterdam, so they added Simon Topping from A Certain Ratio, who had just been training in Cuban percussion. They later added Derek Johnson of 52nd Street and then Derek's brother Barry, formerly of Sweet Sensation and later of Aswad. The album was recorded by Gonnie, Mike, Simon and Barry.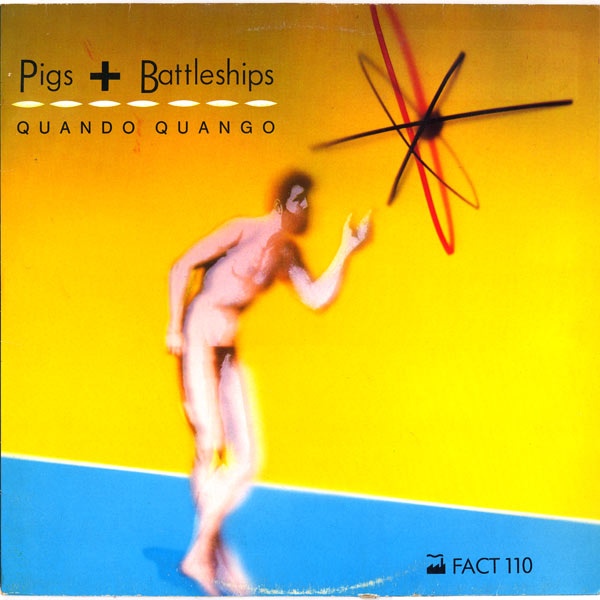 Pigs and Battleships was released in November 1985 on LP and fancy cassette box. The Australian edition included a bonus 12″ of Mark Kamins remixes of their earlier singles "Love Tempo" (which had apparently made No. 4 on the Billboard dance chart) and "Atom Rock." (I still have the Australian LP+12″ in a box here somewhere.) CD versions didn't come until 2003 and then 2013.
The single "Genius" starts the album. It didn't hit anywhere at the time, but has been a consistent favourite on reissue compilations. The magic bit is the triplet in the intro hi-hat, put in over a very straight 4/4 beat. In "Go Exciting," excitable post-punk crosses into the Latin influences (that eventually became what was marketed as "acid jazz") that were in the air around the Factory bands at the time. "Happy Boy" is slower reggae-flavoured electrified post-punk. "Rebel" (B-side of the "Genius" 12″) puts multiple layers of rhythm onto an electro lounge jazz backing with a shouted chorus.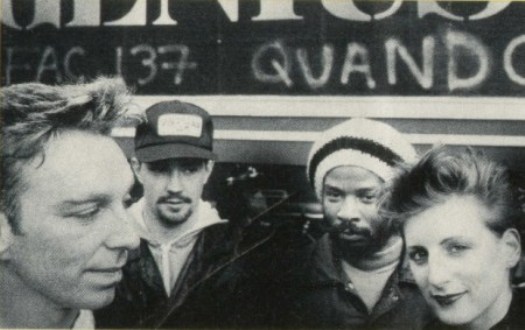 Photo by Kevin Cummins, originally published in The Hit, I think, for a publicity piece for "Genius" talking about the Guinness billboard graffiti pictured
Side two starts with the light midpaced reggae of "This Feeling." "S.T." is straight up Latin-flavoured acid jazz. "40 Dreams" is heavy on the drum machine polyrhythms. The album finishes with "Low Rider", a pretty straight cover of the War song.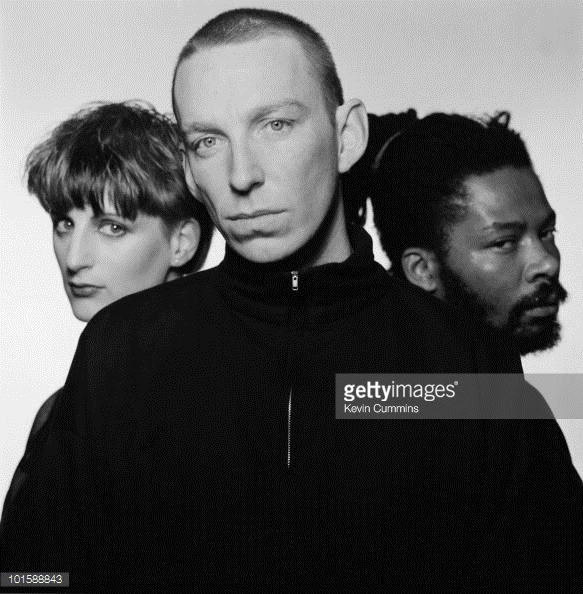 Gonnie, Mike and Barry, 22 November 1985, by Kevin Cummins
The band finally petered out in late 1986. They had professional management by this time, who later formed dance label deConstruction, home of Mike Pickering's hit band M People. Mike DJed at the Haçienda and more or less invented what became acid house; Gonnie went to academia, specialising in popular culture, particularly dance music cultures, at London South Bank University.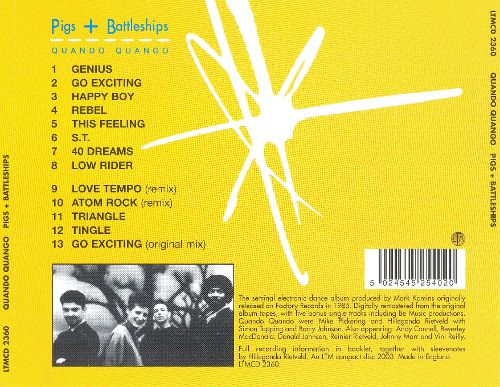 2003 LTM reissue, back cover
The 2003 LTM and 2013 Factory Benelux reissues have different bonus tracks (12″ mixes on the first, BBC sessions on the second), but both are up on Spotify.