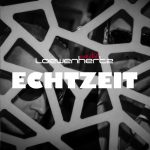 LOEWENHERTZ: Echtzeit; "Unsichtbar"; "Irgendwann" (Echozone) — I'm looking through all these other reviews and I seem to be the only person in the world to notice, so maybe I'm on crack but those are completely Wolfsheim vocal stylings and chord changes. Not that there's anything wrong with that, of course. But '90s-style angsty German synthpop that fits right into industrial, of a genre with Wolfsheim, Beborn Beton and Silke Bischoff. The music stays understated and restrained; it'd be interesting to hear them getting loud, but that's not what this record is doing.
The singles were released ahead of the album, "Irgendwann" (November last year) and "Unsichtbar" (February this year) and are worth your time in full. The extensive remixes are excellent and eminently playable straight through. Next single at the end of this month is "Wer sind Wir", which sounds like … Wolfsheim!
The rest of the album measures up to the singles. They collaborated widely to write good songs that hold up. Heavy on the EBM angst. The rhythm will keep you moving. Other personal favourites: "Gib Mir Noch Zeit", "Halt Mich", "Lights Of The Night". Alexander Pfahler's voice is beautiful, and Andreas Pfeifer's music is no slouch.
It's a good album, and worth your time if you're into synthpop angst. Two extra tracks on the CD version.
Edit: Arkady says the German lyrics are quite nice actually. I am once again cursed with liking this genre and not speaking German.