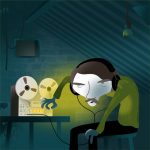 ZÜRICH '81: Here Comes The Freeze — their second EP is a notable development from their first. It's still well-assembled '80s-style synthpop. I've been stalled two months reviewing this trying to think who all this keeps reminding me of. I'm sure I can hear some China Crisis in "The Freeze". Unlike the first EP, which they're all over, this one doesn't have as much clear Severed Head influence, but I can hear a little in "Just Before The War", though I'm still at a loss to spot where the rest is from. "We Lie In Wait" is nicely varied and melodic. The mood is optimistic. Completely at a loss for "Grow Your Hair Again". "Do Not Disturb" is a remix from the first EP, and basically you should just get both. There was a nice interview in Middle Tennessee Music last year if you need further convincing.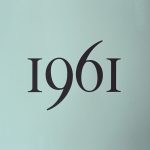 IN THE NURSERY: 1961 (ITN Corporation) — the '80s industrial-adjacent duo of Klive and Nigel Humberstone are still alive and well and recording. This has a lot of processing over the top, but the core is actual playing on stringed instruments and drums.
What they do for an actual living is soundtracks, and it shows. If there's a defect, it's that too much of this sounds like backing tracks to something else rather than songs in their own right. The first three tracks suffer this: single patterns evolved with a sense of beauty, but not going anywhere that makes a statement as a song. Arkady: "You expect it to go somewhere, then it doesn't." Fourth track "Grand Corridor" is the first upfront song, a sound with instrumentation and a rhythm. A song about an abandoned hospital, apparently. "Pacify" has strings and guitar behind voice and works so damn hard. "Prisoner of Conscience" is a female voice singing in French over a guitar and hammers its impact home.
Even as I wanted more of it to be in my face, rest assured that it all sounds beautiful. This is listening music, and rewards multiple plays. Out 3 November, preorders available now.