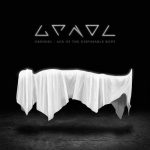 GRENDEL: Age Of The Disposable Body (Infacted) — Classic power balladry with synths instead of guitars. Most songs have air-punching hooks built to go down a treat live, to an extent I found exhausting, but I can see the point, i.e. every side an A-side. Shouty EBM Bon Jovi.
There's a self-important intro, then "Severed Nation" starts actual proceedings suitably. It's got a good beat, good sounds, a serviceable melody and the air-punching chorus works well. (Though I wonder at the sax solo.) "Hex It", given the number of remixes, is probably the other singleish track. The shouty EBM style of chorus. "Fall like Rome" is fast, four on the floor and pounding, which is what the flow needs at this point. "Flux" starts slightly slower and less frenetic, at least until the verse comes in with an impassioned hook.
Like power-ballad-laden albums did back in the '80s, side two drops off a bit. "Far Away" really did make me think "EBM Bon Jovi". "AOTDB" even more so. "Scorn" is a respite by this point for being considerably boppier and with no discernible air punching. "Dead Inside" is a faster shouty EBM air-puncher, and "Zero Hour" is an atmospheric closer. The second disc is remixes of varying interest, though they generally do the songs justice. "Hex It" is improved considerably by the Solve remix.
It's a pretty good and well-assembled album that can actually be played as a piece. Try "Severed Nations" and "Hex It" and see how you feel about a couple of hours of that.