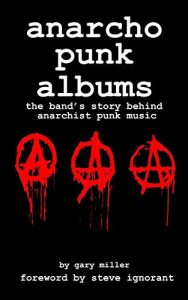 A document of anarchopunk of the late 1970s and early 1980s, an era largely lost to unavailable paper fanzines in old punks' attics. Though there's quite the network of fan websites.
I heard about this stuff back in the day — via NME, no less, when they bothered writing up Crass in late 1982. The Christ The Album box in Dada was a gorgeous production, which I could never quite get together the pennies for. (I was fifteen, I didn't even have that much money.) I did buy Yes Sir, I Will, Crass's last album which was a fucking atrocious record, on which the point was the poster sleeve covered in fine print and the music was completely superfluous. I also got Captain Sensible's single "The Russians Are Coming", which was a fair bit more listenable (and sounded like the Damned).
Even when the music was terrible, I deeply admired the attitude. Crass defined a point and held it.
The best of the bands that followed them took the starting point and launched from it, to create a wild and startling range of post-punk. The music is not just excellent, but significant.
Gary Miller from Punk Online interviews the bands about the stories behind each album's writing and recording. It does the trick — I want to play all these records, confident that this guide will help me through. The Feeding of the 5000 is better than I remember, and the others tend much better. This is a great playlist.
Crass: The Feeding of the 5000
Chumbawamba: Pictures of Starving Children Sell Records
Omega Tribe: No Love Lost
Subhumans: The Day The Country Died
Zounds: The Curse of Zounds
Blyth Power: Wicked Women, Wicked Men And Wicket Keepers
Lost Cherrees: All Part of Growing Up
Antisect: In Darkness, There Is No Choice
The Cravats: The Cravats In Toytown
Flux Of Pink Indians: Strive To Survive Causing The Least Suffering Possible
Rubella Ballet: At Last It's Playtime
Icons Of Filth: Onward Christian Soldiers
The book is short, but it's cheap and a great read. You'll start on it, then you'll go looking for vinyl rips on YouTube. Pretty much all of these records can in fact be purchased in 2018 if you track them down, though Spotify is spotty.