Ryder feels like a throwback. The Queens band has a loud, proud, bold, buttrock sound, strongly reminiscent of early Van Halen, their songs are about sex and the struggles of a hard-working band, and they straight-up love rock and roll.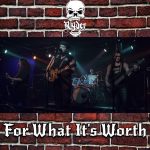 In February 2018 the band released their live EP, For What it's Worth, and the record is a giddy love-letter to rock and roll — up to and including a song which passionately asserts that rock and roll is not, in fact, dead. Everyone involved was clearly having fun in the recording process and that's no surprise — Ryder are a road band, used to being in front of an audience more than in the studio, they inspire a tremendous energy in the crowd that comes through in the EP.
Frontman James Ryder brings in some impressive, powerful screams and a low growl that ties each song together. Both guitarists, Ryder and Andrew Bloch, shred with precision and playfulness. The band as a whole is tight and professional, while still leaving wiggle room for brash solos and improvisation in their live recording compared to their previous EP, IV, which was released a year earlier than For What it's Worth.
"L.O.A. Club" has a honky-tonk feel but everything else on the EP is a solid hard-rock driver. "Do or Die" has a pretty solid AC/DC vibe especially in the choruses, "Slave to Love" really hammers home the Van Halen feel with its heavily muted chords, catchy riffs, and howling vocals.
If you're in the mood for some casual, uncomplicated hard rock with a lot of energy then Ryder is definitely a band to look into.
They will be touring all over the damn place and you can see a list of upcoming shows on their Facebook page; if you happen to be going to Rocklahoma make sure to catch their set on the Axis Entertainment stage at 7:30 on Thursday night.
---
Update: The author would like to note that "buttrock" frequently refers to post-nu metal medley bands like Staind and Puddle of Mudd while "cockrock" is a more frequent descriptor for bands like Mötley Crüe and Ratt. Ryder is of the latter persuasion but regional dialects may have caused some confusion.