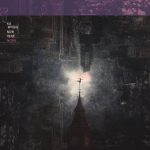 MONO: Nowhere Now Here (Pelagic) — Tell you what I love about Steve Albini recordings: the drums. He knows how to make a rock drumkit sound like nothing on Earth. You know the intro beats of "Serve the Servants" on In Utero? I could listen to that sound all day.
Mono do mostly-instrumental rock at length ( "Breathe" is the song with a vocal and works as one), with a firm base of guitar, bass and drums. The rest sounds good, the drums sound awesome. Outro track "Vanishing, Vanishing Maybe" is an excellent example.
(It wasn't actually recorded by Albini. The drums just sound like it.)
There's four long anchor tracks here. The trouble with loud instrumental prog is that even when it sounds good — does it keep enough of your attention? Showcase track "After You Comes The Flood" suffers this — I keep expecting the vocal to come in and the song to start — but the progression is all we have. "Nowhere Now Here" is a ten-minute instrumental which suffices in itself — heavy on the drums. "Sorrow" is eight minutes of 3/4, therefore doesn't work. (Prog, please just stop doing 3/4.) "Meet Us Where The Night Ends" achieves the proper 4/4 majesty.
Listen to the preview of "After You Comes The Flood" and see if you like the sound. Released 25 January.