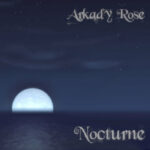 It's blatant advertising time now, with the new CD from Arkady Rose of this parish just released today!
It's up on Bandcamp, and it's shockingly nice. I've been hearing it every day for the past three months and I still think it's good. The genre is the much-maligned form of light music, which I think means short pieces with classical instrumentation and catchy tunes.
The download is up now, and we've sent off the money to get 100 physical CDs pressed — we're expecting these to arrive in a few weeks. Price will be £10 plus postage. Update: the CDs have arrived! Postage and packing is £2 UK, £5 Europe, £7 rest of the world.
If you like this, there's also several hours' more — including demo versions — up at the SoundCloud.
Arkady Rose has played in folk and rock bands since the 1990s. "I'm coming back to a classical style after going full circle. Performing in the local church music team for several years helped bring me back to the longer forms and composition."
Though some pieces are older, the album mostly came from a burst of composition starting in July 2021, putting thirty years of musical work to use.
The album is available as a high-quality download on Bandcamp, with a limited-edition CD currently in pressing.
Dreaming of Springtime: I started with this because it has a dawning feel. I was thinking of sunrise on a spring day, and you know it's going to be a warm, sunny, golden day. I wrote it originally for harp. The background is slow, gliding strings to add emphasis to the lead instrument.
Nocturne Air: The title track. From the dawn to the evening. One of my earlier efforts at doing a piece in waltz time. A pair of lovers walking on the beach, holding hands and gazing at the rising moon together. The flutes build it layer by layer, like the overlapping waves of the sea.
Lady's Courante: The instrumentation is woodwind, to be historically accurate to the form of courantes. There were several different styles of courante; I was picturing a lord and lady leading the dance for the evening.
Moonlight Fantasia: Continuing with the evening theme. I wrote it first then worked out what form it was closest to. It gives the instrumentalists a chance to each take the lead.
Summer Lullaby: Written for a friend nicknamed Summer – a lively, bouncy, friendly sort of fellow. Sometimes he gets a bit overexcitable and needs something like this. He's the flute going across the board.
Beneath The Orange Blossom: The soundtrack to a favourite fantasy character's first kiss. When the world is new and bright, and everything is fresh.
Walk In The Lavender: Written after seeing a picture of a field that was rows and rows of lavender. Something to evoke the smell of the lavender and the sounds of the butterflies and bees.
Spring Fields: A pastorale with a lot going on: the birds in the fields, the farmers at work in the background, the lambs bouncing around.
Summer Love Song: This starts with the first few bars of the lead harp line: it's someone singing a summer love song. It would fit as a progression after "Beneath The Orange Blossom".
The Rose Garden: Inspired by the Rose Garden in St. Albans, where I'm from. Our parents would take us there in summer when the roses first started blooming.
Stepping Out: A courtly dance as interpreted through a folk lens, with the flute on lead.
Goldenmist Dreaming: About an old ruin and the centuries of history it must have seen; starting with the harp and building layers of detail.
Lacrimosa: A piece written for a mournful friend, showing the occasional quirks where they're not sorrowful.
Sojourn: A long walking journey through a near-desert, in the footsteps of desert nomads. You're just one more traveller along that road.
Hiraeth: A Welsh word for a longing for a time or place that you can't go back to, and may not have ever existed. You can think about things that happened in the past, and you can't go back to them, you can only move onward.
Aneuriel's Lament: Closing with a song for my first husband, Sava Malbaski, who inspired me so much in music before being taken from us so early.
released November 1, 2021
With thanks in no particular order to: David for being a patient and supportive husband; Freda for putting up with hours of noise whilst composing; Dani and Kit for being fantastic and supportive daughters; Liz for being the best sister ever; George for being a good friend and patient ear; Jonathan Rathbone for always being encouraging and an inspiration in so many ways; Ravendras for inspiring "Lacrimosa"; the rest of the Broken Isles Squad – Rachel, Jessica, Courtney and Comar; Siavash; the Firestarters crew – Di, Cat, Mark and Celeste; all the folks of Blazing Phoenix (best guild!); and Martin Beach for being an inspiring music teacher.
In memory of Sava Malbaski
Gone but never, ever forgotten