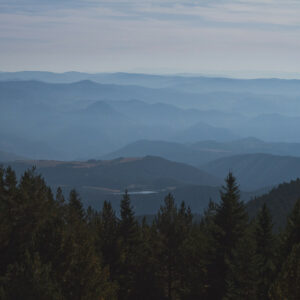 In an attempt not to be too late to the game, post-rock (I still don't like that term) stalwarts Maybeshewill released a new album last year entitled
"No Feeling is Final"
and it is quite a piece of work. This is their first studio album for quite some years, following on "Fair Youth" way back in 2014. As can be expected this new album is quite different given the hiatus in releases. The band is still primarily instrumental with samples, with some rather gentle and beautiful melodic constructions, but this album also provides a sense of future-orientated urgency and darkness.
This is quite evident from the opening track, "We've Arrived at the Burning Building" which sounds like something from a SF thriller that comes with a pounding dirge with classical orchestration. But bringing one firmly into the present is the samples in the second track from UK Labour MP Zarah Sultana's take-no-prisoners maiden speech in the House Of Commons from 2020 on climate change and those who profit from environmental destruction.
"Rousing" is an adjective that can be readily used to describe many of the tracks on the album, including "Complicity", "Invincible Summer", "The Last Hours", and "Refuturing", although the latter is somewhat spoiled by the incongruous inclusion of saxophone. "Refuturing" and "Even Tide" could also receive the appellation "aggressive" as they thunder along.
In contrast, there are some more gentle moments, such as the cello in "Invincible Summer", a track that both delights and engages. Then there's the slow introductory piano in "The Weight of Light" which builds into some truly beautiful and optimistic sounds, the sequence of transitions making it probably the best piece on the album. Also of note are the chorals of "Green Unpleasant Land", and the slower closing track with birdsong, "Tomorrow". Despite its many charms, this finale is probably the least impressive piece on an album but only the context that the entire album is really quite superb.
Following great albums in the past, "No Feeling is Final" is a thoroughly welcome return for Maybeshewill. Always great, they have even gained in skill, orchestration, and passion with their latest album, and as a result, one hopes that they will continue providing us with even more superb music. This is an absolutely superb piece of work, 5 out of 5 stars, thoroughly recommended, etc. The title is evocative, the album cover disarming. This feeling is by no means final and the natural imagery juxtaposes the unnatural thematic concerns within the cover.