I haven't listened to the radio regularly since I lived in Melbourne. And that was just 3-RRR Breakfasters. So every few years, I play the Billboard Hot 100 to pretend I'm keeping up with the pop kids.
Pop music isn't popular any more, the top 10 is meaningless, and album tracks are eligible for the singles chart, because standalone singles are novelty collectibles in the manner of "vinyl" and "CDs." And we have streaming now. So hilarity ensues.
This week's Hot 100, for the week ending 18 March 2023, is heavy on country music — surprisingly good country music at that. Most of this is Morgan Wallen, though other good country singers come along for the ride.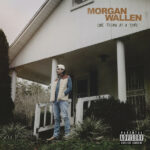 Thirty-six of the "hit singles" are the entire track listing of Wallen's new album One Thing At A Time — a 111-minute double CD. One Thing At A Time took over the Hot 100 the moment the album came out, because streaming listeners just put the album on, in sufficient quantities to flood the singles chart.
It's entirely assembled from clichés. ChatGPT could generate it. But Wallen is good at this, he understands what the hell he's doing, and he loves country music with all his heart.
I hadn't expected listening to the hit parade to feed me an album review.
An album flooding the singles chart is a symptom of the streaming era. And the death of the single. Ed Sheeran was the first prominent example, though Taylor Swift's done it too.
Pop music isn't popular any more. My first guess is that genre is where it's at now — get your base sufficiently excited and they'll flood the chart for you. And they'll bring your fellows with you. If you're bothering to think about charts.
The Hot 100 is not so useful in the present day. I can't imagine bothering to run a "top 40" radio station in 2023.
If you want to keep up with pop music, the Hot 100 can't really be said to do the job any more. You might have to work at it or something. Or, you know, not bother doing that.
Here's the Morgan Wallen album, if you feel like some artisanally hand-extruded country music product.