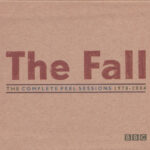 This is quite a thing: a YouTube playlist of all twenty-four Peel Sessions by the Fall, from 1978 to 2004.
This is the same material that was released as a CD box on Castle in 2005. Here's the complete track listing.
There doesn't appear to be a physical release available at present of the complete Peel Sessions. But long-time bassist Steve Hanley compiled a CD of the most listenable tracks from 1978 to 1993 which is still available.
Is it worth your time? Of course it bloody is. The last few sessions are where Mark E. Smith more or less gives up on singing as we know it, but the band behind him still delivers.