Your cyberpunk future is facial fishnets, Japanese text as decoration, 8-bit MSX computers and pseudo-BASIC program listing sleeve notes. Sigue Sigue Sputnik were never very good, but Tony James' desperate striving to be a media manipulator was almost art in itself. Though not quite. ZTT without doing the reading.
I've long found Sputnik just a little endearing. I've always had a soft spot for pop trash, and Sputnik is absolutely that.
I got this album free as a promo. I bought the 12″ of "Love Missile F-11" second-hand.
The "Love Missile" 12″ sounds surprisingly good in a club. I first found this out playing it in an empty Meccano's in Perth one afternoon in late 1986. I'd stopped in to say hi to Annie Car and she gave me a very strong orange and vodka and let me put some records on the sound system while she sorted the club out for the evening. The remix pulls off seven minutes of the same phrase. Much better than the album version. It's 193bpm so it's not actually possible to dance to. Deserved to go to No. 3.
You can also enjoy David Bowie doing "Love Missile." It was a bonus track on his 2003 album Reality.
The rest of Flaunt It! doesn't measure up to the hype — what could have? — but it's a plastic version of okay. Rock'n'roll as played by Giorgio Moroder on a Casio. That may not have been Moroder's precise production brief, but I'm pretty sure it was close. Tony James can in fact write a tune — he had a string of hits with Billy Idol in Generation X, after all — which is why EMI A&R put up with Sputnik as long as they did.
Sigue Sigue Sputnik thought "let's do cool shit." Be your own Malcolm McLaren. But the "cool shit" wasn't cool in itself — they just talked about how cool it would be to be cool. They couldn't think of anything more cyberpunk future than Atari and MSX logos. Lyrics that were strings of signifiers. Tell, don't show.
The band were competent musicians. But their mouths kept writing cheques they didn't have the talent or knowledge to cash. These were not very bright guys, and things kept failing to get out of hand.
That said, Flaunt It! was genuinely popular and went top 10 in multiple countries. "Love Missile F1-11" and "21st Century Boy" did the same. Tony James insisted this was precisely the album he had wanted to make.
Here's the most mid album of 1986 in full on YouTube. Ads between songs and all. If that's not enough, it's been anthologised by Cherry Red in a 4-CD floor-sweepings edition.
My favourite thing about the Flaunt It! LP was the five-colour sleeve, with large splashes of fluorescent pink.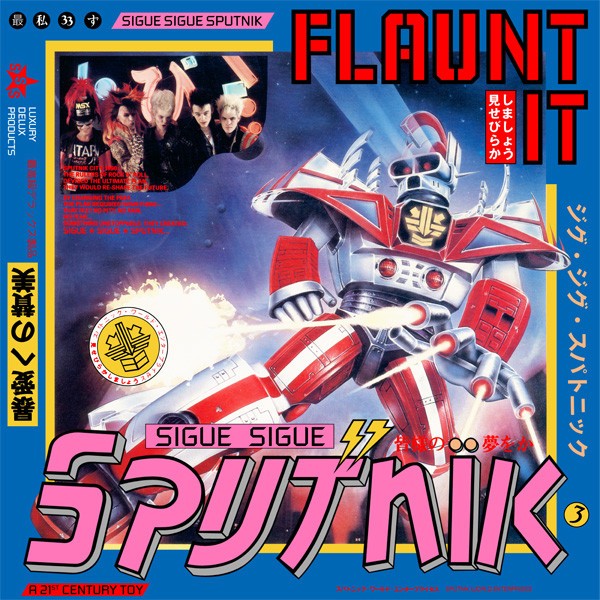 Sputnik gave up after the 1989 second album Dress For Excess went nowhere, because it had zero good songs instead of one — and certainly not that Stock/Aitken/Waterman number — and EMI dropped the band. Tony James joined the Sisters of Mercy for Vision Thing. Sputnik reunited in 1998 and did a few more albums until Martin Degville left in 2004 to play as Sputnik 2.
James also did the rather good Carbon/Silicon with Mick Jones from the Clash — there's an album and plenty of live MP3s around. He can do good stuff!
Martin Degville is still playing as Sigue Sigue Sputnik Electronic with keyboardist Johann Weidemann. They have a Bandcamp. Here's "Rocket Miss USA" live at Prague Gothic Treffen 2023, just last month.