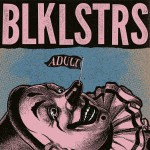 Early 1990s grunge, reproduced with 100% authenticity. Really, I felt like I was a 26-year-old student/bum again, smoking Lucky Strikes on a front porch in Perth, wondering if I too would ever find some way to hit it big with Generation X.
The press release comparison is Jesus Lizard. Makes me think of the bands that were up to Touch & Go quality but released themselves anyway. The bass is particularly pleasing. The songs are not bad and don't go longer than they have to (except maybe the closer, "Downbeat"); if I got out the old vinyl I could probably list which particular twenty-year-old song each is closest to. I suppose MP3 rather than FLAC is a reasonable substitute for thick American vinyl in the circumstances.
It's 2015, not 1993. This is a historical re-enactment society that I hope realises it is one (probably, given they're on a UK label called "Smalltown America"); given that, it's not doing too badly. If you've spent a couple of decades wondering how things would have gone if the music pulled along in Nirvana's wake had kept going (without returning as emo brats, which is what actually happened), you'll like this.
The album's released properly in September. Here's the first single, "Shirts".