A Certain Ratio were one of the earliest Factory Records bands. The label was very into them at first, but rapidly showed little idea of what to do with them and they left for anyone who might actually pay them. Fortunately, they had the early Factory default deal where the band owns everything, so all their records from day one have been multiply reissued and are still in print.
Back in the day, of course, they were regarded by the outside world as post-punk no-hopers. So it was a surprise when Grace Jones, fresh off a hit with the Warm Leatherette LP, took an interest in them for some reason: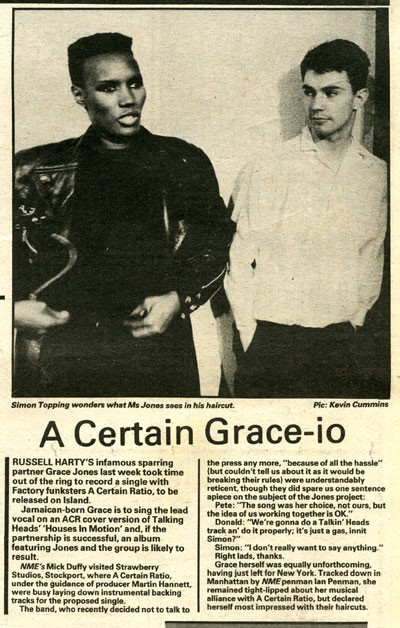 Image from Manchester District Music Archive
The hookup happened because Island A&R Nick Stewart had been hearing about Factory bands at the time. From Shadowplayers: The Rise and Fall of Factory Records by James Nice (UK, US), chapter 1980 Part 2, p130 and p135:
Indeed even before Shack Up appeared, co-manager Wilson found himself invited to New York to discuss signing Ratio to artsy Island sub-label Antilles for America. Through Nick Stewart, operating from Island's London office, Factory also caught the attention of achingly fashionable disco diva Grace Jones, who recorded a singular cover of She's Lost Control by Joy Division, and would toy with the idea of employing Ratio as her backing band.
Sadly, the teamup never did eventuate (and no, the backing tracks, which they apparently spent three days on, haven't shown up either):
With Shack Up and Flight both released inside four short months, Ratio now found themselves courted by Grace Jones, whose cover of She's Lost Control had appeared in August. 'She went up to Manchester to do some television promotion,' recalls Island A&R man Nick Stewart, 'so I took her to Strawberry when ACR and Martin were mixing their album. We talked about a collaboration, and there was an attempt to record a version of And Then Again, and Houses In Motion by Talking Heads. But it never quite came off.' In fact it was even suggested that Ratio record an album with Jones at Compass Point in Nassau, but according to guitarist Pete Terrell: 'Chris Blackwell at Island didn't know anything about the project until after we'd met Grace Jones, done some recordings, and some PR shots appeared in the press. He wasn't happy about it because he was her producer, not Martin Hannett. This guy at Island was really keen but he got overruled. Anyway Donald didn't think the deal was very good, and I was told that Tony didn't get on with Chris Blackwell.'
The choice of Talking Heads' "Houses In Motion" is interesting there, given Talking Heads may well have picked up their funk influence from ACR:
We did six gigs with Talking Heads. Every night, David Byrne was at the side of the stage watching us. He asked us who we were listening to. He'd never heard of George Clinton, which seems comical now, but they were coming from a punk background. Their next album, Fear of Music, was funky, and their guitar was very similar to ours — but we'd nicked it off Eno's Taking Tiger Mountain (By Strategy) and added a funky drummer.
Here's ACR performing "And Then Again" back in the day. (I think that's the channel of Martin Moscrop from ACR. If you know of a less repeatedly-reencoded copy, or one that will allow embedding …)
And another Kevin Cummins photo from the meeting: