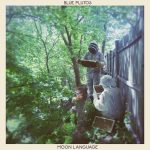 They tag themselves "American Britpoppers", but Moon Language (Being) is the sort of college rock guitar jangle pop that was our bread and butter in Perth in the late '80s. With a whacking dose of Beatles in.
"Immediate Engagements" starts the album with a grungy shoegaze noise barrage. Accessible alternative-rock pop that you can get into from the first note. Remember how the original shoegaze did grinding? That. Even better, the sound is guitar grunge but the mix is clear rather than atmosphericked into mud. "New King In Town" and "Takes A While" show the Beatles-loving side off. The drum machine on "Country New Year" is a bit jarring, but it's a really good song that develops well. Love the lead guitar in the last minute or so of "Star Maps (On Moraine)". "Disagree" will go down well with the '80s Perth indie poppers.
There's no videos from this album yet, but we have "Kashmiri" above and "Want to Want" and "Déjà Vu, Again" below from their 2014 EP Dennett St, live in the studio in 2015 for Tastemakers. There's a pile more records on the Bandcamp.