I think I must have got this for review, because I certainly didn't pay for it. Volition released it in Australia in 1989. Must have come in while I was writing at X-Press. I expect there was a review in the paper, but I didn't save any of the stuff I wrote for X-Press. If anyone has a copy of the review, I'll be frankly amazed.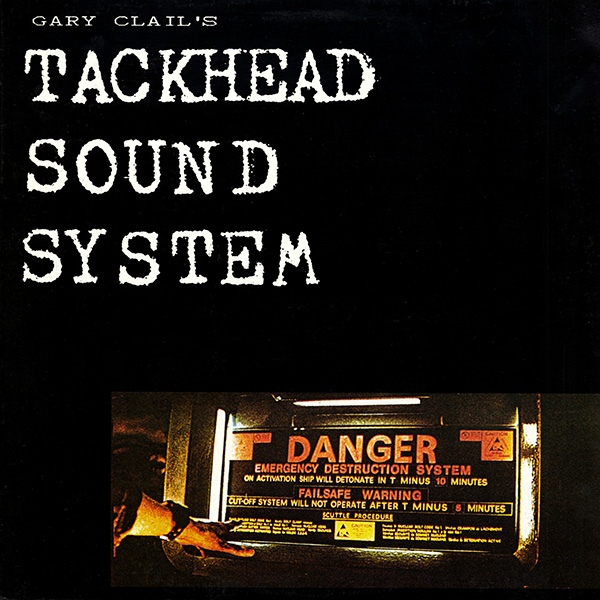 It's a brilliant record. It is not Tackhead per se — it's Gary Clail rapping over Tackhead tracks, hence the title. (He later used the name "Gary Clail On-U Sound System" to avoid confusion.)
"Hard Left" remains chilling and apposite. The fascists and quasi-fascists haven't changed in thirty years. ("Hard left" was a phrase meaning "anyone left of the Tories.")
I played this album a whole lot. It remains awesome. I'm slightly surprised the industrialists never really did pick up on Tackhead or Gary Clail, though they've usually at least heard the name Adrian Sherwood. Try it, you'll like it!
(I can't find a legal way to purchase this album, but there's a torrent, a FLAC ripped from the vinyl, that has seeds.)
Clail had a bit of a hit in 1991 with "Human Nature". Many happyish memories of hearing it play on JJJ while I worked on Party Fears of an evening.
I went to see him too! At Metropolis. (I hung out at the show with rock stars. David McComb and Joanne Alach, namedrop namedrop.) Clail was boring as fuck. Standing on a stage, jumping around and ranting to a backing tape. I suppose it didn't help I was on a sobriety kick at the time, in one of my intermittent periods of realising just how much boredom at shows was a beer marketing tool. Oh well. Damn fine music, though.
---
Update 2018: "Human Nature" still isn't available — but Tackhead Tape Time is up on all the streaming services, as is the rest of the Tackhead catalogue!