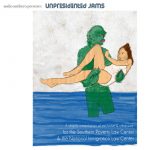 A benefit compilation put together for the Audio Antihero label, with all funds going to the Southern Poverty Law Center and the National Immigration Law Center, with a band lineup that could have been custom-made to attract Rocknerd's attention.
This came out in February, but I've been way backed up on the review pile … you can preview the whole thing here, and the minimum price is £2.99.
Track listing:
Fridge Poetry: "Still Pills"
Betsy Ross: "Jean"
Jeffrey Lewis: "Dictator Seeks Reichstag Fire"
Deerful: "Unlearn/Begin Again"
Cloud: "Moonlit (Piano Version)"
Magana: "To Be the Same"
i hate sex: "Sleep Paralysis"
Pearl Crush: "Can't Hide It"
yr friends: "i got nothing"
CHUCK: "Nothing Matters to Me Now"
Okin Osan: "Sunday Girl"
Benjamin Shaw: "Hole"
Mulligrub: "Little Fist"
Pip Hall: "Calling"
Alex Chilltown: "Words"
Tom from Frog: "Bill"
Hanging Freud: "Motherland"
Vassals: "JC Sci (Demo)"
Jack Hayter: "The New Colossus"
Personal favourite tracks: Fridge Poetry, Betsy Ross, Deerful, Magana, Pearl Crush, Okin Osan (even if it's just a Blondie cover), Pip Hall, Alex Chilltown, Vassals (possibly the best). But really, it's a well-assembled indie pop delight of nineteen really pretty good songs that plays well straight through. You should set this previewing and then send them money.
Or, if you've already donated to the SPLC or NILC, "make a donation directly to either of these organizations and send me your receipt (info @ audioantihero DOT com) and I will send you the compilation with my thanks." And you won't get a better deal on excellent indie pop with unashamedly pointed political commentary than that this year.
"I hope this 'Unpresidented' gag doesn't age too badly." Don't worry, Mike Pence felt the same.