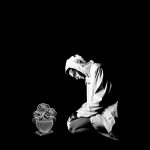 MR. KITTY: A.I. (Negative Gain Productions) — vapor-leaning minimal synth pop with vocoder vocals that kept me listening and bopping along. Sounds like a pissed-off video game in places. Self-labels witch house, but then what isn't. Favourite tracks "Habits" (above, vocals by Pastel Ghost), "Forget", "Earthstones" (my vote for next single ), "Dream Diver". A pleasing find.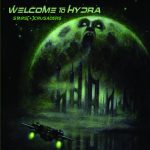 STARS CRUSADERS: Welcome to Hydra (WTII) — EBM that's well on the way down the disco spectrum to Hi-NRG, made entirely of cheese and not ashamed in the slightest. Also sounds like Mind.In.A.Box 'cos Stefan Poiss produced it.
It's a sci-fi concept album. "We are in the year 2517. All humans are moving on Hydra, looking for a new era of peace and prosperity, but a dark shadow appears on the horizon." Some songs suffer from sounding like they were only kept for the words. If you don't care about those, the album has some pretty nice EBM pop songs with good tunes that have a beat and you can dance to them. Personal favourites "The Great Exodus", "Under Attack" (the single, reviewed here last year, video above), "Gemini" and "Sick Bakkus".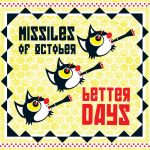 MISSILES OF OCTOBER: Better Days (What's For Breakfast) — Belgian punk rock from late last year, heavy on the rock. A strong selection of songs. Decently recorded, sounds really good. Growly but not completely cookie-monster vocal. Favourite tracks: "State Of Crisis" (the opener), "No Brain No Headache" (the single, above), "Loser", "Two Feet In Sludge" (whose title is truth in advertising). This is better than I'd been expecting.