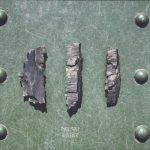 PHASE FATALE: Redeemer (Hospital) — Noisy EBM industrial, with a great sound to it — gritty atmospheres with a beat. Hayden Payne views his work as coming from techno and post-punk, but this stuff would have fit right into early '90s industrial. Complete with the judiciously-applied guitars. You're living the movie this is the soundtrack to.
If you like this, check the previous EP, "Grain". If you don't like physical objects, the new album's up on Spotify and the Phase Fatale SoundCloud.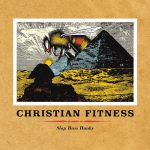 CHRISTIAN FITNESS: Slap Bass Hunks — Andrew Falkous' fourth solo effort; other three reviewed here. It's angular as hell but you can hear every note and what it's doing. It's like I'm listening to the records of my youth on a non-shit sound system. I must note, the drumming is remarkable. Ten tracks in twenty-six minutes, it doesn't waste a moment. When it finishes you'll play it again. Also, Falkous is a ranting bastard par excellence. "Family Courts" will introduce you correctly, as will title track "Slap Bass Hunks." This, like its predecessors, is a delight. I want to sit this guy down with a recording device so he can rant into it for a few hours.