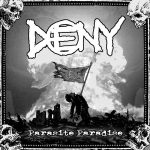 Swedish crustpunks DENY have returned to the scene after an 18-year break between albums. Parasite Paradise, released in April 2018, is an 8-track EP full of barely intelligible lyrics, fast, simple-guitar lines, and overwhelming drums.
Just as God intended, damnit.
It's perfect hardcore with some nice little melodic flourishes thrown in for variety. The music isn't meant to be a distraction from the message — Parasite Paradise isn't a record to be consumed as background noise on your drive to the office, it's meant to be screamed along to, full of calls for justice and revolution.
DENY doesn't pull its punches, with songs like "Resisting Hard" and "Make it Great" making up the tracklist the EP is a sustained roar reacting to and denying populism, capitalism, racism; it voices an impassioned plea for the rights and freedoms under attack in the current climate.
The vocals are garbled, throat-shredding screams; the drums are a wall of unrelenting sound underscored by rapid bass; the dual guitars are largely background for Bjuren's throaty growls but occasionally drop into catchy riffs that add the high notes missing from the rest of the music — brief interludes like the solo in "Bring Me Down" provide a counterpoint to the brawn and beef that make up the rest of the record.
Parasite Paradise is a skillful combination of political wrath, fiercely energetic hardcore, and understated musicality. If you're looking for something to mosh to or a soundtrack for your protest DENY has you covered with this EP.