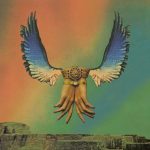 The London prog-metal outfit Limb has released their third album, Saboteurs of the Sun, and it seems like excellent fare for people who really enjoy Tolkein. The record has a supernatural tone and plays with urban legends and magic, which is all well and good but kind of doesn't matter because the music is a solid pounding that most anyone who likes heavy prog will appreciate.
The record is book-ended by opposing sounds. It opens with "Wych Elm," a stomping, snarling song about the mysterious discovery of a woman entombed in a tree. Saboteurs of the Sun ends with "100 Years," a sludgy, atmospheric dirge full of echoes and drones that lingers over notes and moaning lyrics. The album is a ride, is what I'm saying. Nothing seems out of place but the band doesn't stick to a single sound. "Survival Knife" is a journey through some of the sounds showcased on the release. It's got some excellent tension, devolving into repetitious simplistic riffs before building crescendos out into big choruses and mellows into a groovy breakdown that climbs back up into that same delightful tension.
Roy Hoey's voice is always guttural and strained, a low growl that never soars over the music. Whether he's singing over a standard rock structure heard in "Rising Tide" or the low, windy music of "100 Years" his voice occupies a narrow range that grounds the sound as the other instruments cavort around him.
The rest of the band has a more delicate touch. Pat Pask's guitar work is largely precise and light-fingered but there's no hesitation to move from nimble notes to messy power-chords where the music demands it. Tom Mowforth's drumming is fast and heavy, as it should be, but even the drums seem to have a wider range than Hoey's voice.
And this isn't a criticism — the stability of Cooper's bass and Hoey's vocals let the other sounds play out without blending too much together or getting lost. "Man on the Outside" is illustrative of this — at about the 2 minute mark there's a cascade of fun little unexpected fills; a minute later Hoey is howling wordlessly but it does nothing to distract from Mowforth's cymbals, which take the lead in a way you don't often see when a vocalist is actually vocalizing.
The album is playful and compelling. Half the songs have some elements of drone-y, meandering prog explorations but more than half the album is spent on hard riffing rock. In spite of their English provenance Limb manages to throw in some southern-fried flavor. Saboteurs of the Sun is a solid listen for folks into prog, metal, sludge, or just classic rock.
Limb will be performing at the Bloodstock Open Air Festival in August.