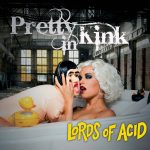 Everyone's familiar with Lords of Acid at a basic level, right? Dark electronic erotica? Techno songs about fucking? It's all very nineties. Pretty in Kink (Metropolis) was released in May 2018 but still puts out the oldschool LoA vibe. It doesn't sound quite as much like happy hardcore as Voodoo-U or anything like that but that's just because times change. Instead of candy flipping at a rave kids these days are all about Xanax in a poorly ventilated club and the music of the era reflects it. We left house behind and instead we've got the endless welter of subgenres that is EDM.
But even though times change Lords of Acid is still making good music. Though their style has changed over the years it's still dance-able synths and drum machines. Sure "Sex Cam Girl" sounds more inspired by Front 242 than by early techno, but it's still got a good vibe and a solid foundation. "What the fuck" is a slow and sexy track that ramps into a couple Prodigy-esque verses and wouldn't be out of place on The Matrix soundtrack. "Androgyny" is probably the most straight-techno track of the new album but even that is slow and sedate compared to earlier offerings.
Again, to be clear, the music is not at all bad — musically I think Pretty in Kink is probably one of the more developed and layered LoA records — it's just a lot slower than the stuff they've made before. You can still dance to it but it's going to be more of a grind than a stomp.
Praga Kahn is still doing his thing and making good beats and pulling good samples while longtime collaborator Erhan Kurkun is adding some depth with his heavy, chuggy guitar. New vocalist Marieke Bresseleers keeps up without breaking a sweat, her clear high tones are a lovely contrast to the electronic noise and low guitar and she's got some interesting things going on with her range and resonance — especially in "Goldfinger" — which is an appropriately diva-esque vehicle for her.
Back in April I saw 3Teeth with Ho99o9 at a really excellent show. But after 3Teeth's set I had to go outside and find the only other person with any grey hair in the venue, who ended up being an old punk from Dunkirk there with his daughter. We talked like old people do about how the scene has changed, and I was lamenting the aging crowd at goth nights and the closure of clubs that focused on electronic music (RIP Complex and Union, you are missed). Sure Front 242 and VNV Nation and Covenant are still touring but seeing the visceral live-action music video that was 3Teeth, with twenty-foot screens perfectly coordinated to sync with their music and their USB LED light panels made me feel old in a way that I have no right to as a 32 year old. So the old French guy and I talked about his Stiff Little Fingers shirt and ended up in the pit while he tried to shield his daughter from thrown elbows. And I kind of wish that I could find him — Lords of Acid are playing locally pretty soon and I think they're going to put on the kind of show that he and I were reminiscing about.