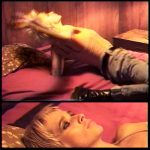 Careful (Nude Club Records) is the new Boy Harsher album, and it's a qualitative leap over the "Country Girl" EP, which was a qualitative leap over Yr Body Is Nothing.
If you'd told me Body had been released in 1982, I'd have believed you. "Country Girl" adds some of when hip-hop hit post-punk in 1983. And their first, Lesser Man, was more than a little 1981, of the sub-genre that attempts to redo New Order's Movement as a coherent album.
Careful's darkwave disco doesn't fit into such a cod-generational box so readily. The songs are of a relentlessly steady driving rhythm and a single base phrase repeated and elaborated. Claustrophobic and hypnotic, with the words wafting in from another plane. It's got a beat, and you can dance to it. "L.A."'s bassline is pretty clearly inspired by New Order's dance side, "Lost"'s hook by Depeche Mode's. Stated influences include "400 Blows, Severed Heads, and This Mortal Coil."
The singles (above) are "Face The Fire", "Fate" and "L.A." And, for all they match the template, they're catchy as hell.
I've been hanging out for this one, and I'm thoroughly delighted. You will be too.