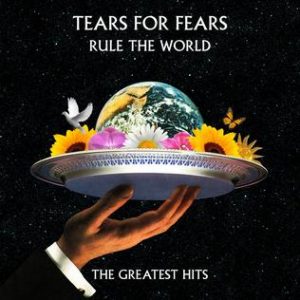 Before this actually completely falls off my to-do list, this eighteen-month late review of Tears for Fears latest compilation, released in November 2017, absolutely has to be done, for reasons of aesthetic duty if nothing else (mad spotters will note that Tears for Fears was my first review on Rocknerd, way back in 2010). For all their synth-pop stylistics, Tears produced music that carried a great deal of depth in their lyrical content, much of based around adolescent angst, primal scream therapy, and hubris. One can suppose that this is why, for a band formed in 1981, they can carry a cadre of dedicated fans. When all of this is combined into a single album, it is inevitable that there is an extremely high-quality production with no less than fourteen top-40 single, selected from the band's six studio albums, with the addition with two new tracks, "Stay", and "I Love You But I'm Lost", both of which are inoffensive additions.
This is the band's third compilation, and the second of 'Greatest Hits'. Their first, "Tears Roll Down" covered the first three albums, the second compilation was various B-sides and rarities. Rather than try to jam everything in a standard-length LP, this album has decided to make use of the wonders of modern technology and release a lengthy 74 minute CD, giving one another quarter an hour on their previous greatest compilation (ignoring the bonus discs added in 2004 and 2005). Comparison between the two albums is inevitable of course and it must be noted that every track in "Tears Roll Down" (with the exception of the previously unreleased, Laid So Low) is also on Rule The World.
For those quick at arithmetic, it is clear that this album doesn't give too much attention to the last three albums by the band; there is in fact only one track from each, and all are reserved towards the end of the album almost in chronological order. Of these Raoul and the Kings of Spain is probably the one with the greatest appeal, having both a more powerful sound than what the band usually carries and greater variation in progression (and one cannot help be a little bit amused with how "Raoul" is converted into a howl).
However, like the predecessor, this is not an album that provides the content in entirely chronological order, which does result in a few moments of jarring incongruity. Tears for Fears did expand their repertoire quite significantly over the years and the jump from the fairly mainstream rock Woman in Chains (1989) followed by the synth-pop Change (1983) was a bit jarring, as was the early insertion of I Love You but I'm Lost in between the early tracks of Shout and Mad World. Mind you, the ordering on this album is a significant improvement on the predecessor compilation.
As evident, the LP includes many of the great early hits that the band is particularly well-known for, but a few of these are more unusual mixes. The "radio edit" of Change works quite well, whereas the more mainstream and commercial "US remix" of Mothers Talk is something that did not appeal. The short, 7″ version of Shout whilst punchy does leaves the appetite wanting more, whilst the second-single version of Pale Shelter just fine. Overall, however, this is an album which captures all their great hits of the 1980s – with a few additions – and all in a very neat package. Tears were a curious band; whereas groups like Joy Division could capture social trauma in their lyrics and mix it with sounds of existential isolation that would always struggle commercially (but would be applauded critically), Tears took personal trauma, mixed it with romance and used upbeat pop music to provide a strange sense of security and thus commercial success. This is probably the final milestone of that journey.