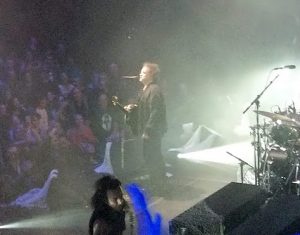 Always the most publicly accessible band of the genre, the goth-pop of The Cure dragged itself from the devastating maudlin experienced (by both band and listener) of albums in the early 1980s like Pornography, to a string of commercial successes from Japanese Whispers, The Head on the Door, and culminating in the period with the "best of" Standing on the Beach. At the time, Disintegration was considered to be somewhat of a return to introspective sounds of several years prior, and thus gained a great deal of both critical acclaim and popularity. In reality, it incorporated some of the sounds, fine as they were, with popular and acceptable goth accoutrements. As front-man Robert Smith says, "I would be monk-like and not talk to anyone. It was a bit pretentious really, looking back, but I actually wanted an environment that was slightly unpleasant".
Disintegration is not an unpleasant album, but it is "just a bit" pretentious. This said its popularity is absolutely deserving of a 30th anniversary and real credit is given to the band for having the courage and principle to have the entire show live-streamed and added to youtube, where it remains for all and sundry to enjoy in the future. It would be really nice for the history of music is other groups would consider doing this as well, you know?
As for the concert itself, it was part of the Sydney Vivid light and music festival in which the band makes a popular if a somewhat partial contribution to the theme. "Popular" is not be underestimated here; they performed five shows as past of the festival with your fortunate reviewer picking up a ticket only through what was a lucky draw. The webbing on the stage was a bit twee but fortunately, this did not provide any predictive qualities of what was to follow. The performance was extremely impressive, almost note-perfect, which is no simple feat for an album which was so heavily based on brooding effects. Further, and most remarkably, Robert Smith's voice remains a clear as it was decades past, which itself is some sort of angelic miracle. One must also mention the truly impressive timing of drummer Jason Cooper and, for theatrics, the surprising amount of energy that bassist Simon Gallup displayed ("Dear Pharmacist, please give me some energy", eh?). Credit is also given to the entire band, and the oft-forgotten member, the mixer, for providing sounds that were both clear and deep.
It was like having the band playing a production-quality concert in your living room. You could just sit back, relax, and absorb everything as it washed over you.
Now there was some luck in picking up a later ticket in the series here; previous reviews were not entirely forgiving of the performance of Disintegration followed by almost an hour of various B-sides and songs that almost made it into the album. These tracks themselves, or at least a select few, are not so bad, but an hour's worth would be pushing the limits of even the most dedicated fans. Instead, a handful (Delirious Night, Fear of Ghosts etc) were provided as a more moderate taste of what was to come, which was the Disintegration album itself. Of particular note from that album must include the drumming-intensive performance of Closedown, the ever-creepy Lullaby, and the melodic harmonies of the title-track Disintegration. On the other side of assessment, Fascination Street, a personal favourite from the album, was the most discordant and irksome performance of the night, and the final song of the night, a cover of Wendy Waldman's Pirate Ships was completely incongruous.
Overall, however, this was an enjoyable evening, with an audience who absorbed a band who has left an indelible mark on alternative music history, and a band who showed that they are as much fans of their audience as their audience is fans of the band. It was not an overpowering evening and nor was it meant to be and nor indeed could it be; the album simply does not allow for such a depth of emotion. "Pleasing" and "satisfactory" are the more appropriate adjectives.
Setlist: Delirious Night/Fear of Ghosts/No Heart/Esten//Late/Out of Mind/Babble/Plainsong/Pictures of You/Closedown/Lovesong/Last Dance/Lullaby/Fascination Street/Prayers for Rain/The Same Deep Water as You/Disintegration/Homesick/Untitled/Burn/Three Imaginary Boys/Pirate Ships