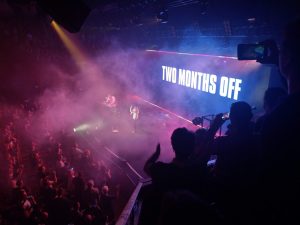 Possibly one of the most iconic progressive house bands of the 1990s, Underworld's appearance at Sydney's Vivid light and sound festival was exceptionally appropriate. There are those of course who remember their 1980s incarnation with the hit Underneath the Radar, but any weird hopes that this old classic would be played were improbable at best. Underworld has stayed within their genre for decades now and their Opera House concert was no exception. Which is just as well; they dynamic duo of Karl Hyde and Rick Smith delivered an absolutely pearler of a concert, performed with incredibly high energy (and these guys are in their 60s now), with an absolutely astounding light show, and the fans engaged equally. This is one concert where the Sydney Opera House did not need seating – at any point of time 95% of the attendees were on their feet for most of the night turning the place into the sort of 1990s club that most of the punters remember the band by.
The dynamic duo played three concerts over the festival, and my own attendance was on June 1st. They did vary their set-list somewhat between the concerts as well, selecting the best from their fairly long catalogue, which unfortunately meant that I missed out on my favourite tracks from the band, Mmm… Skyscraper, I Love You, which was performed on the two nights. Ahh, timing. Instead, we were treated to the classic Juanita, which merged gently into Two Months Off, tracks which make up in epic tempo what they lack in lyrical content. This was followed by the rolling thunder of This Must Be Drum Street, a contemporary track from their recent project 'Drift', which is a somewhat different sound yet matches well with Dark & Long (Dark Train) from 1994, which was played latter in the set.
Underworld of course have a number of absolutely powerful tracks to get the body moving, and they made good use of these. Of particular high-quality peformance was Pearl's Girl, and the slightly menancig rhythm in King of Snake. Then there was the now-often performed combined track of Rez/Cowgirl, the latter making its famous appearance in the movie Hackers, which has some very particular looped sounds of that era, which whilst a little dated now are still associated with some more permanent values: Don't forget: "They're trashing our rights.. They're trashing the flow of data.. Hack the planet!". Well, yes, that was a pretty big hint, wasn't it?
But when it comes to memorable earworms, it's hard to beat Born Slippy .NUXX whose appearance in Trainspotting providing not only mass recognition, but also through association made it the anthem of the chemically-encouraged clubbing the 1990s, noting the subcultural shift away from both the sombre gothic-rockers from a decade previous or even the wall of white noise that would often accompany the indy-like shoegazers just prior. Seemingly lyrically confused, capturing snippets of conversation, Born Slippy .NUXX nevertheless has a certain poetry to a memorable narrative score. Performed without error, the final pre-encore track of the night provided an epic peak to an evening where one couldn't think greater heights could be attained.
Something must be reiterated here in conclusion; this was a Vivid event, Sydney's festival of light and sound. And whilst it is easy to make reference to being bathed in the pretty dancing lights, Underworld really did put on something quite spectacular in this regard, of unexpected quality. Matched with the powerful tempo of their music, it was arguably the highlight of the entire festival, albeit one which was viewed by far fewer people to the public events. There were no weak points in this concert; there was a consistent high-point through-out the entire event. As a result and as a whole, it must surely rate as one of the best concerts that I have had the pleasure of attending.
Setlist: Juanita/Two Months Off/This Must Be Drum Street/Pearl's Girl/Listen to Their No/Dark & Long (Dark Train)/King of Snake/Jumbo/Border Country/Another Silent Way/Rez/Cowgirl/Born Slippy .NUXX/Moaner