As part of their tour launching their new album, Truimph & Disaster, already helpfully reviewed here on Rocknerd, We Lost The Sea's visit to Melbourne was certainly welcome. As was, it must be said, the choice of venue. The Howler Bar in Brunswick initially looks like a large open-plan bar but has an enclosed back-room which is just the right size for bands with a moderate following, and a brilliant second bar which provides a windowed view to the stage.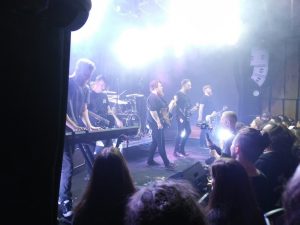 The main act was preceded with Tangled Thoughts of Leaving who played in a similar genre, a cross-over between metal and math rock. For a support band, it must be said they were pretty damn good and obviously more than a few fans in the audience and from their performance generated a significant number more. True, they hadn't quite mastered the harmonics of different instruments powering along simultaneously, and their mixer could have turned down the bass "just a little", but overall they really were worth the modest entrance fee in their own right. Special mention must be made of the competence of keyboardist Ron Pollard. Having a member of the main act wear your band t-shirt is probably a good indication of your skills, although they have been doing this for fifteen years.
We Lost The Sea started their set with 'A Beautiful Collapse' from their new album, which makes for a very fine introductory song, starting relatively quiet and slow and building up in complexity in tempo, really bringing the crowd to immediate satisfaction. With six performers on stage (three guitarists, bass, keyboards, drums) the stage looked wonderfully crowded with guitars standing out like heralds. Also from the new album, this opening was followed by 'Parting Ways' which also follows a similar style, and then 'The Last Sun', which revels in an initial cacophony before adopting a gentle movement and then a return to its epic, almost space-rock, journey. It is not until later in the set when extensive and highly divergent 'Towers', the first track of the new album, is added to the set.
With a little under half of the set dedicated the new album, much of the rest was made up their acclaimed third album, Departure Sounds, all played in succession. This consisted of 'Bogatyri', the famous 'A Gallant Gentleman', and the ethereal 'Challenger Part 1 – Flight'. The first two are in reverse order of how they are performed on the album and this choice works quite well, especially given the fairly long – around seven minutes – introductory movement of 'Bogatyri' before it seriously picks up its pace and content into a seriously thundering and rolling combination of bass, guitar, and drum, allowing for more breathing space with the gentler and melodic 'A Gallant Gentleman'. As for 'Challenger', that is something of extraordinary length of its own right, something that would easily take up the entire side of an LP in the old technology.
The final two songs performed on the night were for the old fans, 'Barkhan Charge' from The Quietest Place on Earth and 'Balaklava Cold' from the first album, Crimea. The observant reader will notice the use of the term 'songs', which indeed these are, as it is the third and fourth album that We Lost The Sea are an instrumental band, and a guest vocalist did indeed make an appearance and performed in accordance to their historical metal style. It is not necessarily to my taste, but certainly it was given with passion demanded of such an honour, even if the relatively small stage now had seven performers on it. This brings to attention a feature of the entire evening, that the band, every single member, played with great passion, and even thorough enjoyment.
Overall it was quite a spectacular night for music. We Lost The Sea didn't provide much in the way of a light show and they dressed with simplicity. They didn't need to get chatty with the crowd, they just had to show how dedicated they were in providing magnificent sounds, and the crowd fed back their energetic appreciation in return. This is a band that is really on the rise, and they can keep the momentum they have built from their last two albums they will be really heading towards something big – but their release rate is going to have to pick up. Two albums in four years is quite a while between drinks, and the punters are very thirty indeed. Give us more!
A Beautiful Collapse / Parting Ways / The Last Sun / Bogatyri / A Gallant Gentleman / Challenger Part 1 – Flight / Towers / Barkhan Charge / Balaklava Cold