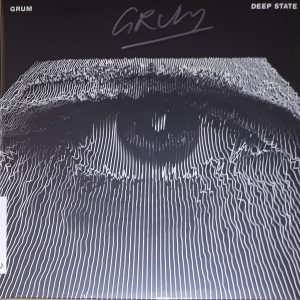 With almost ten years between releases Grum (aka Graeme Shepherd) released their second studio album, the deliciously named Deep State, in November 2019. To describe it as long-awaited would be quite an understatement, as this has been no quiet period either. With a dizzying collection of singles and performances, the release of an EP, Trine (2015), and the tantalising hint of the release of the studio album Human Touch (still unreleased), Grum has certainly been active. Whilst it would be hard to top the popularity of the heavily disco influenced Heartbeats (2010), over the years Grum has expanded their repertoire to include more synth-wave, trance, and progressive house.
The album opens with the relatively short but impressive title track, Deep State, which has some need ethereal trance that has more than a hint of 1980s Jean-Michel Jarre to it before it segues into an eight-minute heavier electronic dance-track, Stay, with vocals by Natalie Shay. This is followed by Lose Control, a well-executed progressive dance track with a long plateau at the peak.
Bringing things down a notch the heavier dance beat of Tomorrow with vocals by Dom Youdan is lyrically richer, but musically flatter. It juxtaposes with Home which offers greater variation and progression, and indeed is thoroughly uplifting; also of note on this track are some delightful distortions on the vocals by Nicole Dash Jones.
Genesis makes use of a Dr.Who-inspired introduction (ahh, "Genesis of the Daleks", right?) before picking up the pace leading to what is a little too much like 90s coffee-shop jitters mixed with house anthems and whilst it has all the components of what could be a very good track doesn't really progress anywhere. It is less of a problem in The Ascent which follows, which has some superb continuous and uplifting progression in a classic hard-house track. Unfortunately, it plateaus too early and doesn't really develop from there.
Running, with vocals by Jinadu, is a curious piece on the album which, whilst including many of the components of a contemporary dance piece, also seems to have similar influence from the alternative electronica from the late 80s sounding, at least in parts, a little like Depeche Mode's Personal Jesus. Mixing the two is not "crazy brave" of course, and it works quite well. It is succeeded by the penultimate piece, Altered State, which has lighter instrumentation and has quite a pace all of which is quite competent.
The final track, Afterglow, has a great introductory sound and vocals again by Natalie Shaw that sounds very reminiscent of Lisa Billson on Orbital's Frenetic at the start, and then rises and falls with utterly magnificent progression. It is a pity that it comes to an end, but it is without a doubt a superb way to come to an end; it just needs more afterglow.
Whilst I have been wearing my critic's hat which picks on each and every note, I must add in conclusion that as a whole this is really quite a superb album. Certainly, it has been constructed to have a great beginning and ends with one wanting more, and its influences are often not exactly subtle. But experientially and holistically this is a thoroughly enjoyable piece of work of which Grum can be pretty proud of. In fact, it shows much greater compositional skill and depth than what was provided with Heartbeats, which is high praise indeed.