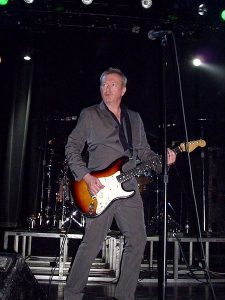 Elder statesman, co-founder, and guitarist and vocalist of post-punk legends Gang of Four, Andy Gill, died on 1 February, aged 64. Gill was particularly known for his sharp and abrasive guitar style, which helped establish the Gang of Four's unique sound, an unlikely combination of punk and funk. The band was also well-known for their blunt political and cultural messages, which were influenced by the Frankfurt School. The Gang of Four operated from 1976-1984, 1987-1997, and from 2004 onwards. From 2012 onwards Gill was the last remaining original member of the band.
In addition to performance, Gill was also extensively involved in production. He was a producer or co-producer of all the Gang of Four's albums, and also a producer for artists such as Red Hot Chilli Peppers (The Red Hot Chili Peppers, 1984), The Jesus Lizard (Blue, 1991), The Stranglers (Written in Red, 1997), The Mark of Cain (This is This, 2001), Killing Joke (Killing Joke, 2003), The Futureheads (The Futureheads, 2004), and others. In addition, Gill was also involved in film production, contributing to Derek Jarman's "The Last of England", Adam Curtis's "Pandora's Box", and Peter Hall' "Delinquent", Channel 5's "The Natural History of Murder" among others.
Making the announcement of his passing on Twitter band members John "Gaoler" Sterry, Thomas McNeice, and Tobias Humble remarked that Gill's dedication to his music meant that even on a hospital bed he was planning the next tour and listening to mixes of a forthcoming album. NME has stated that the death was from a short respiratory illness.
Gill was married to Catherine Mayer, a journalist and the co-founder and president of the Women's Equality Party (UK), who has remarked: "This pain is the price of extraordinary joy, almost three decades with the best man in the world."
Last year The Gang of Four embarked on a tour for the thirtieth year anniversary of their debut album, Entertainment! Your correspondent was fortunate to see this performance in Melbourne, Australia and provided a review on Rocknerd, as well as picking up Andy's guitar in the process. It will be carried with pride. Valedictions, Andy Gill.