Art is ephemeral. The text changes out from under you. Particularly when the text is a Severed Heads album — the versions on Bandcamp often aren't quite identical to what you bought on vinyl many decades ago.
And sometimes, they just quietly go away. Tom Ellard writes in the Severed Heads discussion group on Facebook:
Dear listeners, after as much as thirty years in service, some of the mid_era albums on our Sevcom Bandcamp have a very small, if any, audience. At one time these albums would have fallen out of print. Now they take up space where younger work should be seen and heard. (While the older albums are being preserved by specialty labels.)

[Some time ago I removed the Blubberknife album from Bandcamp. No one seemed to notice or care — you can see how some titles just become 'zombies'.]

I am planning a compilation that will condense the best of these 'zombie titles': Cuisine, Gigapus, Haul Ass, Under Gail Succubus.

If you are the owner of any of these titles, or wish to purchase the old albums please download your files SOON. Otherwise look forward to single download title with some special features later this year.
The albums will be replaced with a highlights compilation, presently to be called Focus. There's a tentative track list.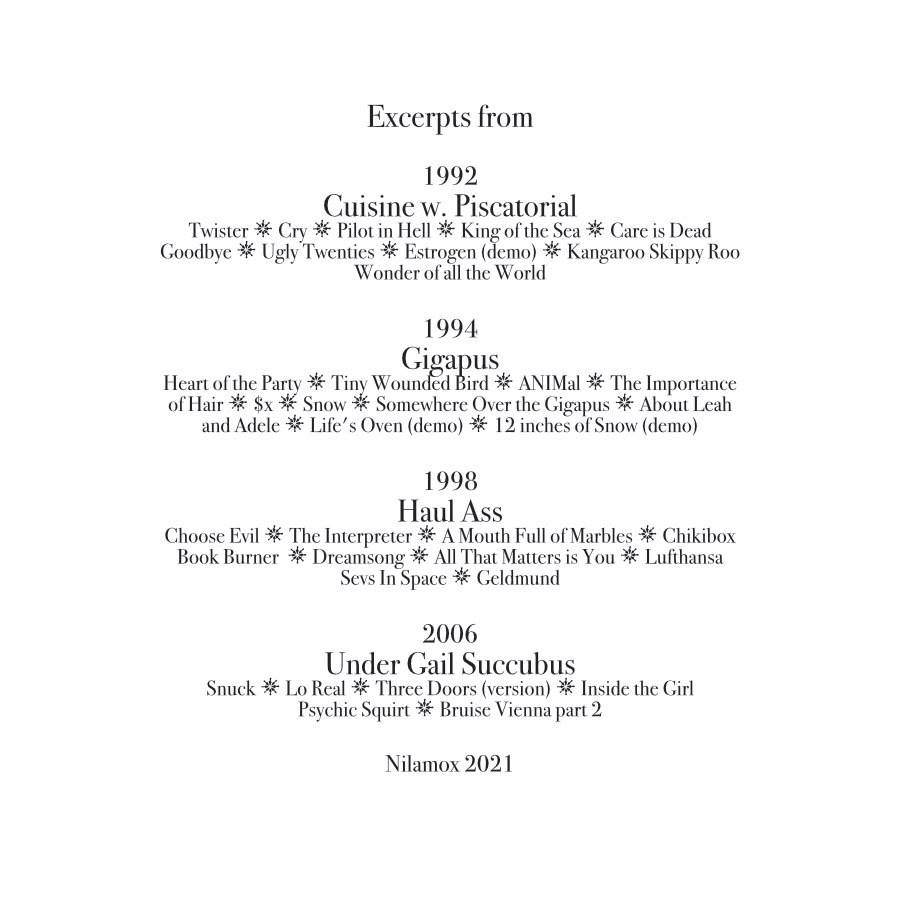 In the meantime, go to the following Bandcamp pages: Cuisine w Piscatorial (1991), Gigapus++ (1994), Haul Ass (1998) and Under Gail Succubus (2006) — and give Tom your money. Just five dollars each! Twenty the lot!
Here's the 2015 revision of the video for "Heart of the Party" from Gigapus. The videos were also reworked repeatedly over the years for the live shows, as new technology became available.
After that, remember that Severed Heads is dead, and hit the Nilamox catalogue.
Update: There we go! Focus. A mid-life crisis compilation. With excellent philosophical sleeve notes from Tom. "This compilation describes a fall from a height, not just for us but for recorded music. There's myths either end of this journey. The visible 'underground' was always a confection — the real underground has become a museum of collectable antique objects. The scene today sells false memories, and the entire concept of an 'album' is dead to the children of the moment. Of course it should be. It's part of growing up."